National Guardsman's body found near Ellicott City after being swept away by floodwaters
The body of a National Guardsman was found in a Maryland river on Tuesday, two days after he went missing while attempting to rescue a woman and her cat during devastating flash floods that swept through Ellicott City.
Howard County police said the body of Eddison Hermond, 39, was located in Patapsco River, just across Baltimore County line. Hermond was seen around 5:20 p.m. Sunday near La Palapa restaurant on Main Street, Howard County police said.
"Rescue personnel have been searching buildings and waterways in the area since the flood. There have been no other reports of missing people," police said.
Hermond is a sergeant assigned to Camp Fretterd in Reisterstown, Md. He joined the Maryland Army National Guard in 2009 after serving in the Air Force for more than a decade.
Kate Bowman told the Baltimore Sun that Hermond was trying to pull her to safety when he "washed away."
"I could barely see anything and I could barely hear anything," Bowman, 41, told the newspaper. "He stepped over the ledge to try to get to me, and he was washed away."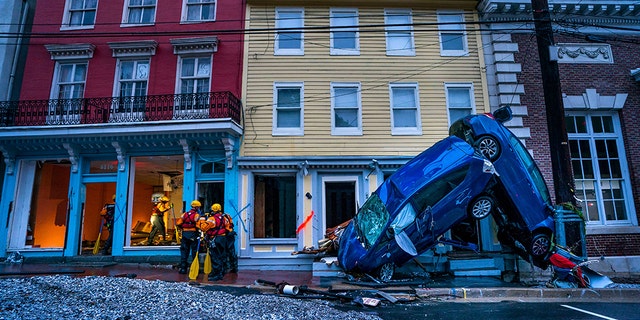 Bowman said she fled her shop, Clipper's Canine Café, with her cat through a window because the rainwater flooded the area. The water was waist-high when Hermond spotted her.
MARYLAND FLASH FLOODS LEAVE NATIONAL GUARD MEMBER MISSING, GOVERNOR DECLARES STATE OF EMERGENCY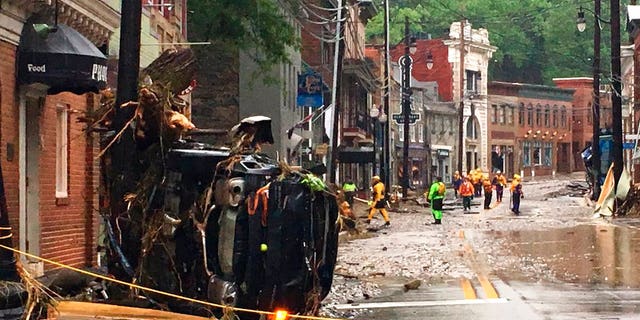 Bowman said the rescue "had nothing to do" with her cat.
"He was trying to save me," Bowman said. "He's a hero."
Hermond was reported missing by 12:30 a.m. Monday after officials searched the area where he was taken away by floodwaters, but couldn't find the 39-year-old. Dogs were deployed to help look in buildings and vehicles.
"We're just tossing around ideas," Beth Czyryca, one of Hermond's friends, told the newspaper. "Maybe he's sitting up in a tree where no one can see him, or he broke both his legs and can't walk and is waiting for someone to find him."
She called Hermond the "nicest person in the world" who always had a smile on his face. Czyrca added that she wasn't surprised that her friend, whom she's known for a decade, was trying to rescue someone during the flash flooding.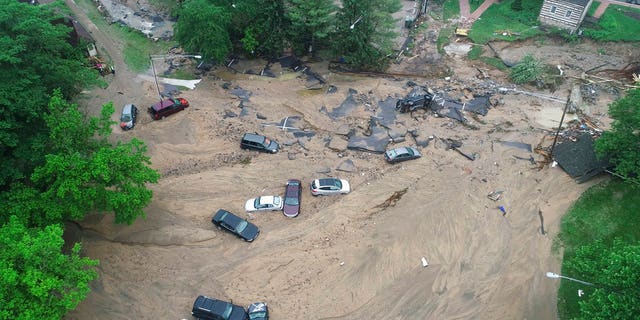 Maryland Gov. Larry Hogan said he was "deeply saddened" to hear Harmond had died.
"We're deeply saddened to learn that the body of @MDNG Sgt. Eddison Hermond has been found. There are no words to adequately describe our sense of loss," he tweeted Tuesday.
Residents in Ellicott City, about 13 miles west of Baltimore, returned to their businesses and homes Monday to examine the damage cause by the massive flood. Just hours before, murky brown water rushed through the city center, taking with it anything in its path. Videos and photos showed flipped vehicles and debris littering streets and storefronts. Officials said the weekend flooding was "worse than" the July 2016 storm that wreaked havoc on the city of nearly 66,000 people.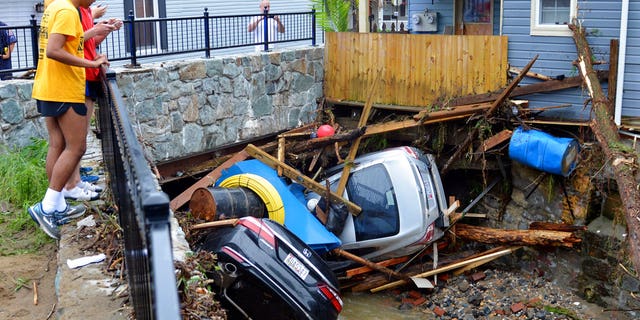 For many residents, this is the second time they will be rebuilding following a 2016 deluge that caused millions in damages.
"Time to rebuild, that's it," restaurateur Michel Tersiguel said. "It's no question for us. We rebuilt the building last time, so that helped. … Our plan is to get at it as soon as the county lets us in."
Local officials recently said about 96 percent of the business destroyed during the 2016 flooding were back in operation and more than 20 new businesses had again opened in the Main Street area. But the rebuild proved to be short-lived, leaving some shop owners questioning whether they will do it all over again.
"We'll see. It takes a lot of money and a lot of time, a lot of energy. We'll just have to assess it," Nathan Sowers said about rebuilding his pizza shop.
The Associated Press contributed to this report.