Naked man linked to San Francisco Bay Area indecent-exposure cases caught on camera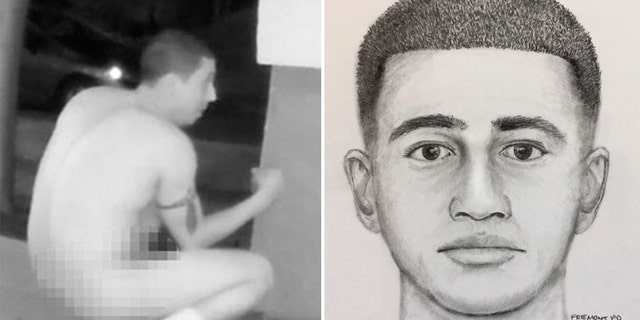 Cops were seeking a young man linked to multiple indecent-exposure incidents in California's Bay Area — including one incident when he was caught naked on camera outside a home last week.
The suspect, as KTVU reported, was described as a white man in his early 20s, with dirty brown-colored hair kept in a fade-style haircut.
"We have been able to connect … Fremont cases, taking place between June 15 and June 27, to the suspect sought in our June 21 incident. We also believe the same suspect was caught on video in a Pleasanton incident that occurred the night of June 5," the Fremont Police Department said in a statement. "One key piece of identifying evidence in this series, is the suspect's distinct tattoo. In the most recent Pleasanton incident, the tattoo clearly depicts a feather hanging from a ring around the suspect's right bicep."
Last Thursday night, KTVU reported, a Pleasanton resident's security camera captured a nude man engaging in lewd conduct, according to police.
Fremont police said the first case connected to the suspect happened on June 15, when two women looked outside of a home and saw a man touching his genitals.
The second case happened on June 21, when a burglary suspect exposed himself to a resident. The naked suspect, who had entered through an unlocked sliding glass door, KTVU reported, was standing near a bedroom doorway masturbating.
The third and fourth incidents happened on June 27. Two victims in a car saw a naked man touching his genitals approach them. Less than an hour later, the naked suspect approached a female victim who was walking her dog at an apartment complex.