Mysterious Soviet buoy washes up on Florida shore after Irma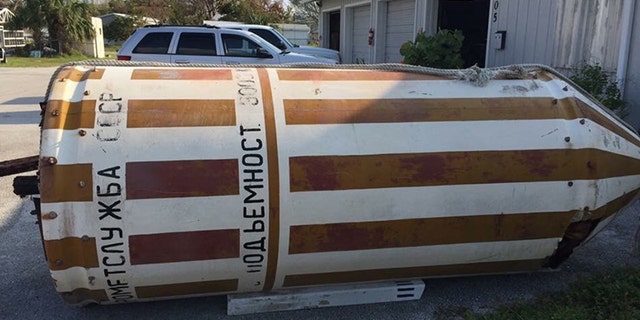 Oh buoy!
A 12-foot Cold War-era Soviet float surfaced on Dania Beach in South Florida after Hurricane Irma, and local authorities speculate it may have originated from Cuba based on the nation's close proximity and historic relationship with Russia.
Bill Moore, a maintenance mechanic at Dr. Von D. Mizell-Eula Johnson State Park, spotted the buoy two days after the storm hit, according to the Orlando Sun-Sentinel.
"You don't find that too often," he told the paper of his discovery.
Moore managed to drag the 1,200 pound buoy with rope and a skid-steer loader to his office parking lot before the Coast Guard could get their hands on it.
"They tried to confiscate it," he said of the Coast Guard, whose administrative offices are right next door to the park's headquarters. Moore has since offered to hand it over to authorities if they still want it.
Moore suspects the drift, which reads "Hydrometrical Service of the USSR" in Russian on the side, likely floated 350 miles from Cuba.
Meteorologists agree.
"In Irma, the storm came from the south-southeast. And in a storm like that, something could get dislodged," Robert Molleda, a meteorologist with the National Weather Service, told the paper.
CLIKE MORE FROM THE NEW YORK POST.