Mysterious gray gunk killing hundreds of birds in San Francisco Bay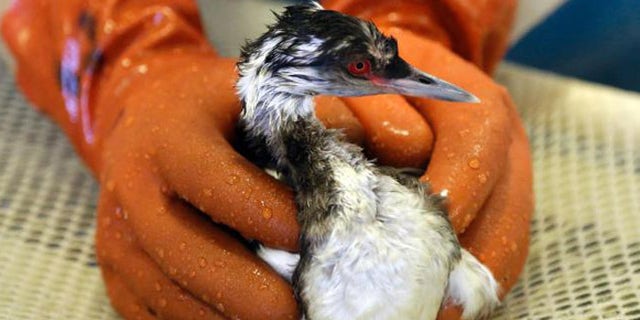 SAN FRANCISCO – Wildlife experts are scrambling to identify the mysterious gray gunk coating -- and killing -- hundreds of seabirds in the San Francisco Bay, and save hundreds more that have been rescued.
The sticky substance began showing up a week ago along the shorelines east of San Francisco, and has killed more than 200 birds. Hundreds of live birds have been cleaned and rehabilitated at the International Bird Rescue Center in Fairfield, north of San Francisco. Officials say lab tests and necropsies began earlier this week.
"We hope to get the test results back soon, maybe as soon as today."
"We hope to get the test results back soon, maybe as soon as today," said Mary Ficke, of the California Department of Fish and Wildlife (CDFW).
The substance looks and feels like dirty, rubber cement. Experts say they know what it isn't: fish oil, synthetic rubber or petroleum from an oil spill. The gunk covers the birds' feathers, affecting their ability to insulate themselves, and they eventually succumb to hypothermia and freeze to death. More than 500 birds have come into contact with the toxic substance. At last count, 322 sea birds have been admitted to International Bird Rescue (IBR), including surf scoters, buffleheads and horned grebes. Roughly 145 dead birds have been collected.
Once officials identify the substance and the source, whoever is responsible for discharging the gunk can be billed for the cost of responding to the wildlife emergency.
While IBR continues to examine and carefully clean the animals, the CDFW continues to investigate the cause of this case, teaming up with federal and private organizations.
The good news is that the immediate threat appears to be over. Fish and Wildlife officials say the water has diluted the goo enough so that there is no longer a wildlife emergency.
"We found one dead bird earlier," said CDFW spokesman Andrew Hughan, as Fox News affiliate KTVU accompanied him on a boat survey of the water. "The sea state looks really good and we've seen hundreds of healthy, active birds. It's a really good assessment at the moment."
Even so, officials say recovery efforts will continue through the weekend. They're asking for the public's help to report any sick birds they see, and to become trained volunteers to help quickly respond to future wildlife emergencies.