MS-13 foiled in attempt to kidnap, kill teen boy on Long Island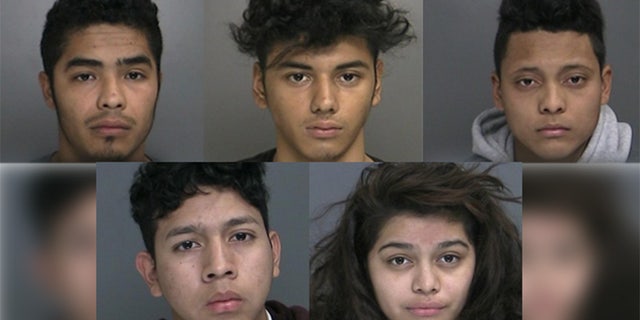 NEWYou can now listen to Fox News articles!
Long Island police say they foiled an MS-13 kidnapping and murder plot when they saw the intended 16-year-old male victim being coerced into a van.
Plainclothes officers arrested five members and associates of the notorious immigrant street gang on conspiracy charges after Wednesday's takedown in Brentwood, Newsday reported.
President Trump went to Brentwood in July and vowed to crush MS-13, while pledging a tougher approach on immigration. "They have transformed peaceful parks and beautiful quiet neighborhoods into blood-stained killing fields," he said about the gang. "They're animals."
Officers told Newsday that two of the suspects, Vidal Contrera-Ortiz, 18, and Miguel Rivera, 20, were illegal immigrants.
The three other suspects -- Jorge Bermudez Cedillos, 18; Lilliana Villanueva, 17; and Oscar Fuentes, 18 -- came to the U.S. as unaccompanied minors.
All five are Salvadoran, and all but Rivera attend Brentwood High School. Cedillos and Villanueva are ninth graders. Contrera-Ortiz and Fuentes are 11th graders.
FEDS CRACK DOWN ON MS-13, BUT IMMIGRATION POLICY LETS NEW RECRUITS IN, FIGURES SHOW
The would-be victim also attended Brentwood High.
"We were going to take him somewhere private and beat him to death with the bats," Rivera told police, according to Newsday, which cited court papers. He is said to have admitted being an MS-13 member.
Villaneueva told police that she heard Bermudez-Cedillos "say the victim was 18," referring to a rival gang, Newsday reported.
Police declined to say if the intended victim belonged to a gang.
Numerous officers were patrolling in Brentwood on Wednesday after police received information a day earlier that three 16-year-old boys were accosted by a group of young men traveling in a van, Suffolk County Police Commissioner Timothy Sini said. Two of the 16-year-olds were hit with baseball bats but were not abducted.
"We do believe they were looking to elevate their status in the MS-13 community by carrying out that murder," Sini said at a press conference.
Police in Nassau and Suffolk counties have made hundreds of arrests of suspected MS-13 gang members in the past year.
MS-13 has been linked to at least 25 killings on Long Island since January 2016, Newsday reported.
The suspects pleaded not guilty at their arraignment and were ordered held on $250,000 bond, according to Newsday.
The Associated Press contributed to this report.