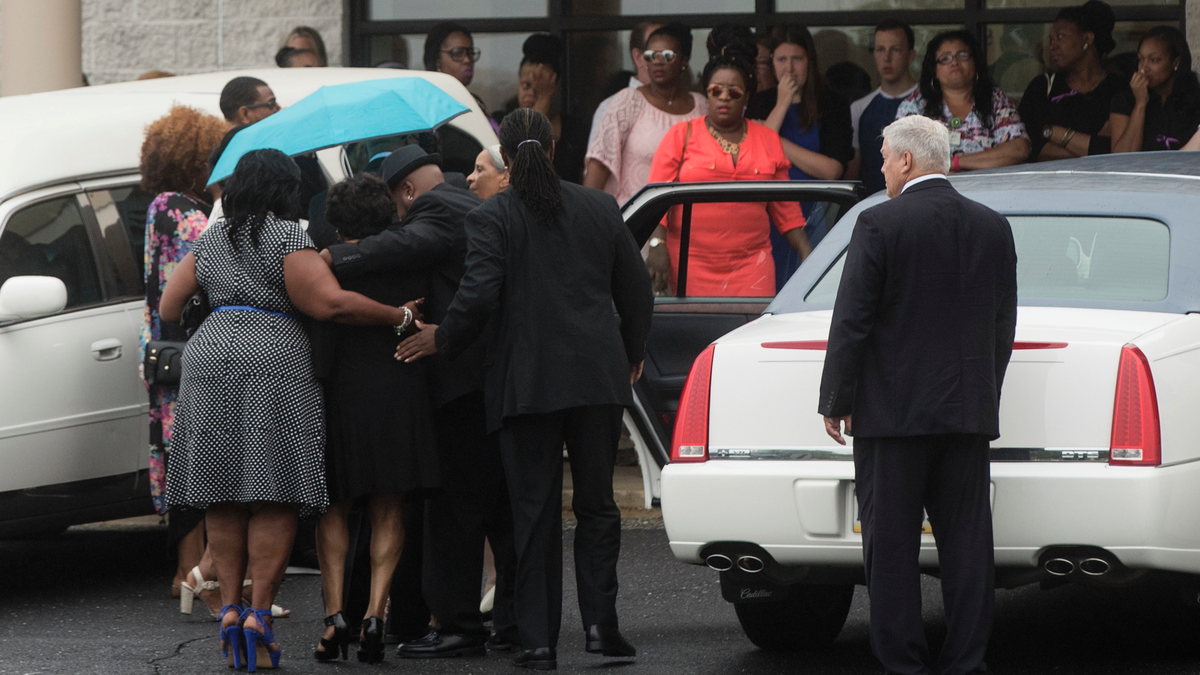 WEST CHESTER, Pa. – The parents of a high school graduate killed during a road rage confrontation stood teary-eyed Friday as mourners held two folded tapestries in front of them at the end of their daughter's funeral.
As they unfurled the fabric, the sight of a sewn image of 18-year-old Bianca Roberson smiling and holding a red rose sent her mother, Michelle, face-down into her husband's arms. She sobbed as a man wrapped the cloth around her shoulders.
The service at St. Paul's Baptist Church came a week and a half after Roberson and another driver engaged in what police called a high-speed "cat-and-mouse game" as they tried to merge into a single highway lane. It ended with the young woman shot in the head June 28.
Officials said her car then veered off the road and struck a tree before settling in a ditch. The shooter fled along the shoulder of the highway in a red pickup truck but was arrested Sunday.
The West Chester church was packed with more than 300 people, many of them schoolmates of the victim. Wreaths of lavender and white flowers dotted the place of worship, as did photographs of a smiling Roberson.
Speakers talked about her contagious smile, how excited she was to start college at Florida's Jacksonville University in the fall and her goal of becoming a forensic agent in the FBI.
"We might have lost her in a physical form, but all those memories we have, everything we shared with her, that will never leave us," her brother Rodney Roberson Jr. said. "That will always be in our hearts, always be in our souls."
Police said 28-year-old David Desper, of Trainer, turned himself in for the shooting. He was charged with first- and third-degree murder. His preliminary hearing is set for July 13.
His attorney was not immediately available for comment.
Devin Williams, one of Roberson's best friends and a grade below her at Bayard Rustin High School, cried at the funeral as she described how Roberson helped her deal with a difficult teacher during her freshman year.
"I was texting Bianca, and about three minutes later, she shows up at the door and walks into the classroom," Williams recalled. "When my teacher asked her where she was supposed to be, she sat down next to me, put her arm around me and said, 'Right here.'"