Mountain lion in crawlspace causes commotion in Los Angeles neighborhood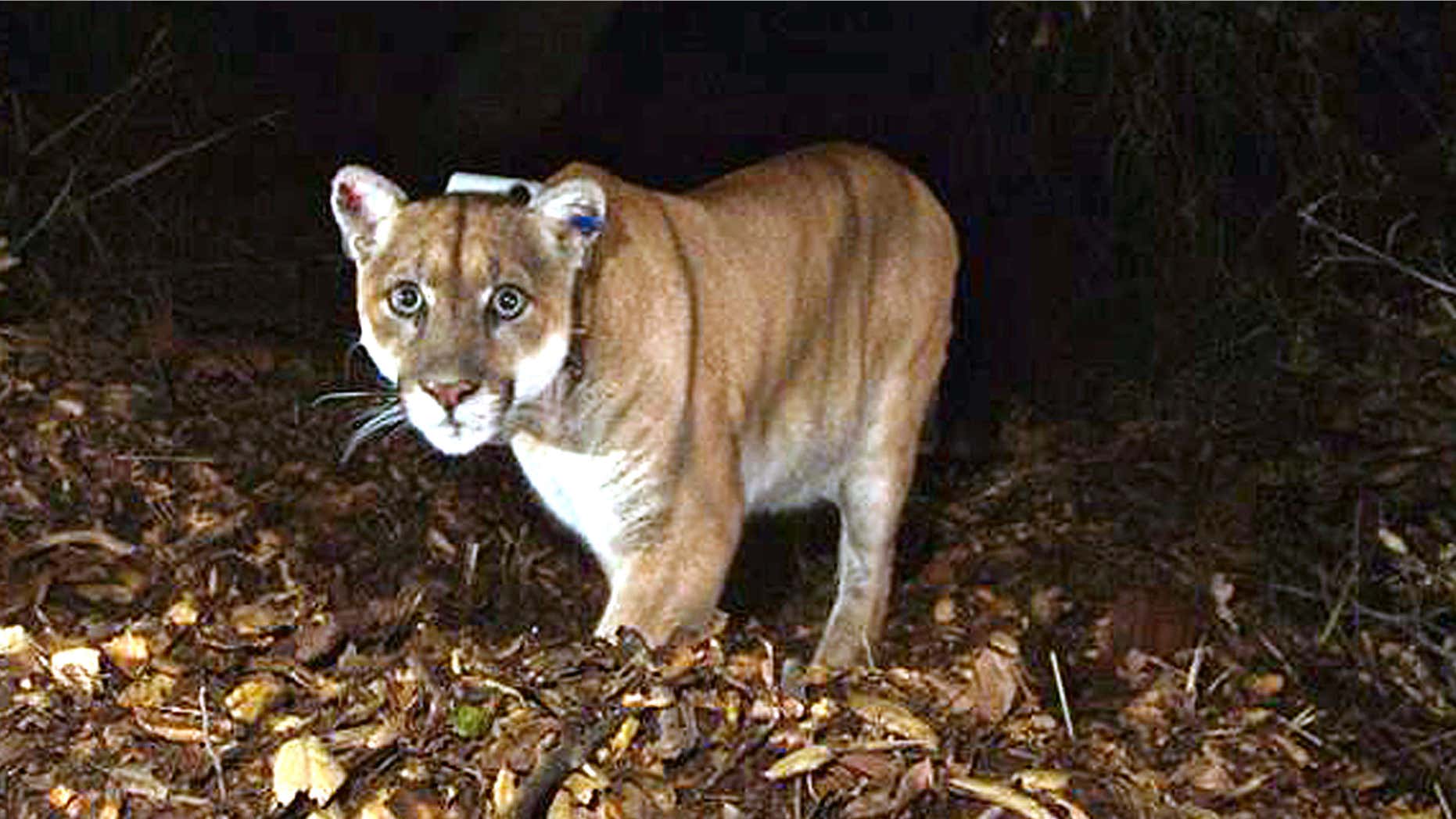 A mountain lion set off a scramble of paparazzi-like photographers in a wealthy California hillside neighborhood before quietly slipping back into its natural habitat Tuesday.
The 125-pound animal has been seen from time to time roaming the hillsides overlooking downtown Los Angeles. The mountain lion is easily recognizable by the collar and the ear tag that wildlife officials placed on it a few years ago.
On Monday, a worker installing a home security system at James Archinaco's house found the mountain lion lounging in a crawl space.
"He came up, and he was like, 'Mr. Jason, you have a mountain lion in your house!' And that's where it all started," Archinaco said Tuesday.
Soon, wildlife officials were throwing beanbags and tennis balls at the lion known as P-22, trying to flush him out as TV news photographers jockeyed for position. Within hours, the event was being broadcast live. The lion, meanwhile, remained indifferent until everyone eventually gave up and left. Then he did, too.
"He felt safe in that hole. But once everyone took off last night, the lion removed himself and probably went back to his natural habitat," said Lt. J. C. Healy of the state Department of Fish and Wildlife.
The mountain lion usually keeps to himself, but the encounter Tuesday was hardly his first with humans.
Wildlife officials have used remote cameras to study the lion's behavior since discovering him in Griffith Park in March 2012. When wildlife officials captured him the first time, they placed a tag on him and treated him for mange.
Despite being in the heart of the city, Griffith Park is not an altogether unusual place for a mountain lion to take up residence. With more than 50 miles of hiking trails that wind through chaparral-covered canyons and over hillsides, it bills itself as the largest urban wilderness in the United States.
At the same time, it backs up against neighborhoods of multimillion-dollar hillside homes with killer views. If P-22 looked to his right when he exited that crawl space, he would have seen much of Hollywood laid out before him.
The Bureau of Land Management says there are about 5,000 mountain lions that exist in California. However, the North American native animal has been largely wiped out by hunters.
During his time in the park, P-22 apparently has survived on mule deer, raccoon and coyote.
Mountain lion attacks on people are extremely rare, with the state wildlife agency documenting only 14 since 1986, three of which were fatal. California's last deadly mountain lion attack was in 2004.
Archinaco indicated he didn't really mind having P-22 as a houseguest, though he's just as happy the lion took off.
"In one way, you want him to be gone in the sense that then everybody leaves, all the news media leaves," he said.
The Associated Press contributed to this report