Mother of baby found in trash leaves jail, says she didn't know she was pregnant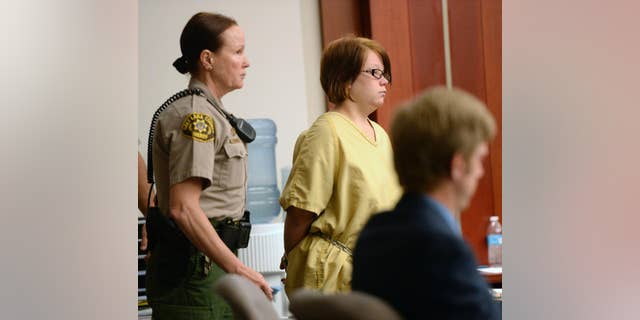 NEWYou can now listen to Fox News articles!
SALT LAKE CITY – A Utah woman accused of abandoning her newborn baby in a trash can was released from jail on Monday, and told reporters as she left that she hadn't known she was pregnant.
Alicia Marie Englert, 23, posted $25,000 bond and left the Salt Lake County Jail Monday evening. She said she was sorry about what had happened with the baby girl, who is now in the custody of child welfare workers, the Deseret News reported (http://bit.ly/1Fx28Uy ).
Earlier Monday, a judge reduced Englert's bail and ordered tests to determine if she's mentally competent to stand trial on a charge of attempted murder.
Englert's parents have previously said she has a learning disability and didn't understand what she was doing or why it was wrong. She told reporters on Monday she had a disability, which she didn't describe. Messages left with Englert's defense attorneys Zach Weyher and Josie Brumfield were not immediately returned Tuesday.
Prosecutors said Englert gave birth in August at her home in the Salt Lake City suburb of Kearns. She left the baby without food or medical care for at least a day before wrapping her in a towel and abandoning her in the trash on Aug. 26, according to prosecutors.
Authorities haven't determined the baby's father, but Englert said Monday night that the baby's father knows about the child. Englert has been ordered not to contact him. She did not identify the father.
Salt Lake County District Attorney Sim Gill said the baby would have died if she hadn't been found by a neighbor who thought she heard a purring cat. The girl was inside a trash can under bags of trash and suffering from hypothermia, respiratory distress and a blood-borne infection.
If convicted, Englert faces up to life in prison.
___
Information from: Deseret News, http://www.deseretnews.com