Mother from Peru seeks pardon to avoid deportation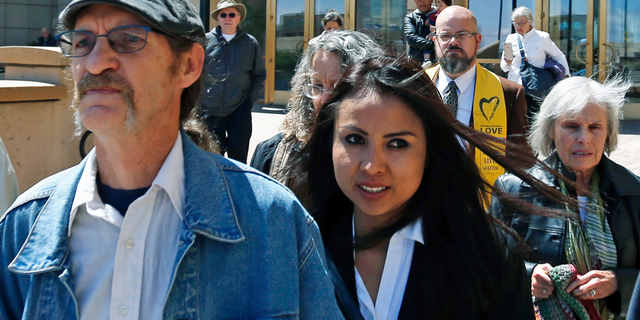 DENVER – A mother who sought sanctuary at a Quaker meeting house in Denver to avoid U.S. immigration authorities has asked Colorado's governor for a pardon that might allow her to fight deportation.
Ingrid Encalada Latorre, a 33-year-old native of Peru, asked for a pardon after a suburban Denver judge on Wednesday rejected her appeal of a 2010 case in which she pleaded guilty to felony possession of falsified or stolen identification papers.
Latorre wanted to withdraw her plea, contending her attorney at the time didn't explain that it would put her at risk of deportation. But District Judge Dennis Hall ruled it was impossible to know the consequences of the plea, Jennifer Piper, an interfaith organizer with the American Friends Service Committee, said Thursday.
The committee supports Latorre's efforts to stay in Colorado.
U.S. Immigration and Customs Enforcement officials had agreed not to pursue deportation through Sept. 15 to allow Latorre to pursue her appeal.
Latorre sought refuge at the Quaker meeting house in November to avoid ICE. In May, she reunited with her family, including two U.S.-born sons, ages 1 and 8, after ICE said it would not immediately seek her arrest.
Piper said a pardon would at least allow Latorre to reopen her immigration case. Latorre completed probation and paid $9,000 in back taxes. But an immigration judge issued a deportation order in 2016, citing her felony plea.
Gov. John Hickenlooper's office said it was reviewing the pardon application.
Hoping to stop another deportation, Hickenlooper in May pardoned a Cuban immigrant, Rene Lima-Marin, for an armed robbery Lima-Marin committed in 1998. At the time, ICE said the pardon had no effect on a pending deportation order, and he was taken into ICE custody. An immigration judge later allowed Lima-Marin to re-argue his case, which is pending.
Lima-Marin was mistakenly paroled from Colorado state prison in 2008. He married, had a child and got a steady job before the mistake was discovered. He was returned to prison in 2014.