Mother Delivers Emotional Eulogy for Three Girls Killed in Connecticut Christmas Fire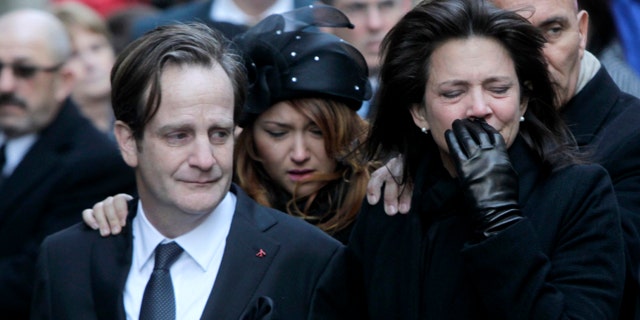 NEW YORK – Standing near three small caskets adorned with wreaths of pink and white lilies, ad executive Madonna Badger Thursday told more than 1,000 mourners "love is everything" in an emotional eulogy for her young daughters who perished in a Christmas Day blaze at their Connecticut home.
Badger, who also lost her parents in the fire, occasionally broke down in tears as she remembered her family.
"I want to remember my girls out loud," she said, according to the New York Post. "To fight for them to never be forgotten."
Of nine-year-old Lily, she said, "Lily was my angel and my life and she was my first born."
Sarah, seven, "used to hold my head at night and tell me how much she loved me. This was my Sarah, my little whippersnapper, loved and lovable and full of love."
Sarah's twin, Grace, "was fearless, the first to pick up the creepiest, grossest bug she could find.
"She was a fisherman and an adventurer and her imagination was boundless. There was nothing Grace Badger could not make with a band aid. When she loved you, she loved you completely.
"She asked me once if she was going to die before me and I said, 'No Grace, That's not going to happen.' But that happened."
Speaking of their deaths, she declared, "In all the incomprehensible loss and chaos, all I can hang onto is that love is everything."
At another point, she told the church,"My girls are in my heart. They're right here. And that's where they live now."
Rev. William Shillady of the United Methodist City Society delivered remarks on behalf of the girls' father, Matthew, saying that he "wanted everyone to know how much he loved his children," the Wall Street Journal reported.
Badger arrived at St. Thomas Church on Fifth Avenue with Matthew, from whom she is separated. They embraced and she laid her head on his shoulder as the caskets were carried inside to be placed at the foot of the church's marble altar.
Mourners were handed programs with a picture of the laughing girls and their dates of birth and death. The program said the songs to be performed at the service would be "Amazing Grace," "This Little Light of Mine" and "Over the Rainbow."
No cameras were allowed inside for the service, which was to be followed by a private burial ceremony at Woodlawn Cemetery in the Bronx for the girls and their grandparents, Lomer and Pauline Johnson.
The white-bearded Johnson had just finished a holiday stint as Santa Claus at Saks Fifth Avenue.
Among the mourners at Thursday's service were some 70 firemen involved in fighting the pre-dawn blaze at the Badger home in Stamford, Conn., which investigators said was triggered when still-smoldering fireplace ashes were placed outside in a bag.
Badger's friend, Michael Borcina, moved the ashes after the girls reportedly said they were worried about Santa getting burned when he came down the chimney.