MORNING BRIEF: Rep. Waters tells Trump to do America a favor and 'resign'
Congresswoman Maxine Waters, D-Calif., a frequent critic of President Trump, said the president would be doing the United States "a favor" by resigning.
"Trump confessed to Reuters that being President is more challenging than he anticipated. He should do himself & the country a favor & resign," Waters tweeted Monday evening.
Waters, 78, has repeatedly accused Trump of working in collusion with the Russians and not being the legitimate president because Russian leader Vladimir Putin put his thumb on the electoral scales.
EX-TRUMP AIDE TALKING
Former Trump adviser Carter Page told Fox News Monday that he is cooperating with the Senate Intelligence Committee's probe into the Trump campaign and contacts with Russia.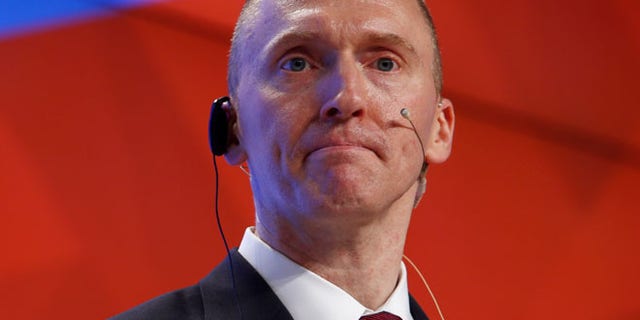 The unverified dossier from former British intelligence officer, Christopher Steele, identified Page as the campaign's point of contact with Russia. Page denied these allegations in an interview with Fox News last month, and said he was eager to cooperate with Congress.
HANNITY: TRUMP FIGHTING AGAINST THE PROPAGANDA MEDIA
NORTH KOREA THREATENS WAR
North Korea on Tuesday said the United States' decision to fly two supersonic B-1B Lancer bombers in the area in a training drill is a provocation and puts the two countries on the brink of a nuclear war.
"The reckless military provocation is pushing the situation on the Korean peninsula closer to the brink of nuclear war," the North's official KCNA news agency said on Tuesday, according to Reuters.
TENTATIVE DEAL
A spokesman for film and television producers says a tentative deal has been reached with writers, averting a costly strike that would have blacked out popular television shows, The Associated Press reported early Tuesday.
Producers' spokesman Jarryd Gonzales confirmed the agreement early Tuesday, but no further details were immediately available.
MAY DAY ARRESTS
More than 40 arrests were made Monday as tens of thousands across the country chanted, picketed and protested against President Trump's immigration and labor policies on May Day.
Police in Portland, Ore., shut down a protest that they said had become a riot after marchers began throwing smoke bombs and other items at officers. Police made 25 arrests, including a 14-year-old who was charged with rioting.
'TUCKER CARLSON TONIGHT': HOST INTERVIEWS ORGANIZER STEVE CHOI, EXECUTIVE DIRECTOR OF THE NEW YORK IMMIGRATION COALITION
COMING UP ON FOX NEWS CHANNEL
9:30 AM ET: House Committee on Transportation & Infrastructure holds hearing on "Oversight of US Airline Customer Service." United Airlines CEO Oscar Munoz among those set to testify
1:30 PM ET: White House Briefing with Press Secretary Sean Spicer
COMING UP ON FOX BUSINESS
7:30 AM ET: Elaine Chao, transportation secretary, on "Mornings With Maria"
3 PM ET: Grover Norquist, president of Americans for tax reform, on "Countdown to Closing Bell"