Morning brief: Pence delivers fiery message to North Korea
PENCE SENDS STERN MESSAGE TO NORTH KOREA
Vice President Pence, on the first leg of a 10-day Asian tour, sent a fiery message to North Korea Monday. Pence, first speaking at the DMZ and then at the South Korean presidential residence, said the "the era of strategic patience is over" in regards to North Korea. Pence said him and President Trump want to see North Korea "abandon its reckless path of the development of nuclear weapons, and also its continual use and testing of ballistic missiles is unacceptable."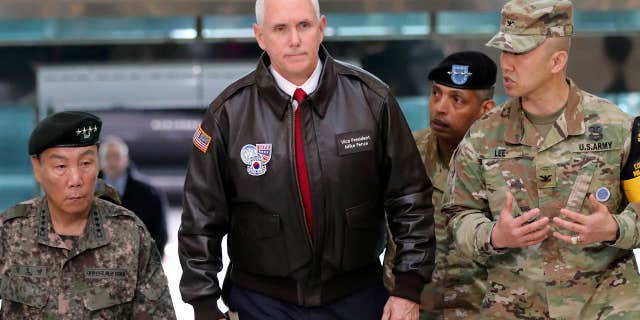 ERIC SHAWN REPORTS: HOW TO HANDLE NORTH KOREA
TRUMP ADVISER: NORTH KOREA MISSILE LAUNCH A 'FIZZLE'
MANHUNT FOR ALLEGED FACEBOOK KILLER WIDENS
The search for Steve Stephens, accused of killing a man seemingly at random and posting a video of it on Facebook, grew Monday as police urged residents of Pennsylvania, New York, Indiana and Michigan to be on alert for him. The video purportedly shows Stephens getting out of his car and shooting and killing Robert Godwin. Stephens allegedly shot the man because he was having problems with his girlfriend. Cleveland Mayor Frank Jackson and police Chief Calvin Williams have urged Stephens to surrender.
VIDEO: COPS HUNT MAN HOW MAY HAVE BROADCAST MURDER ON FACEBOOK
CLEVELAND MAYOR, POLICE URGE SUSPECT TO SURRENDER
ALL EYES ON JUSTICE GORSUCH
Supreme Court Justice Neil Gorsuch will take the bench for the first time today, but there could be more hype than action surrounding him. Gorsuch is set to take on three non-noteworthy cases, but could recuse himself from at least one of them – Town of Chester, New York v. Laroe Estates – because of the presence of Neal Katyal, a former Obama administration official who wrote an op-ed supporting Gorsuch. There are no rules on when a justice must recuse himself, but this case may set a precedent.
VIDEO: ANALYZING THE IMPACT OF JUSTICE GORSUCH ON SCOTUS
VIDEO: WHICH CASES WILL JUSTICE GORSUCH PLAY THE LARGEST ROLE?
LOIS LERNER GOT OFF EASY IN THE IRS SCANDAL. IT'S TIME TO REEXAMINE THE TARGETING OF CONSERVATIVES.
House Ways and Means Committee Chairman Kevin Brady and Tax Policy Subcommittee Chairman Peter Roskam have sent a letter to Attorney General Jeff Sessions asking the Department of Justice to re-open a probe of the conduct of former top IRS official Lois Lerner, who was at the center of a targeting scandal that discriminated against conservative organizations which had applied for tax-exempt status. The lawmakers urge the Department of Justice to "take a fresh look at the evidence" concerning Lerner's actions in this matter. We completely agree. Lois Lerner got off easy. She never faced charges for her role in this scandal. She was never prosecuted. She was permitted to retire – with a tax-payer funded pension.
HOW AMERICANS REALLY SPEND THEIR TAX REFUND
FEDERAL TAX BILLS: WHERE DOES YOUR STATE RANK?
PRINCE HARRY OPENS UP ABOUT THE DEATH OF HIS MOTHER, PRINCESS DIANA
In a revealing conversation with The Telegraph's Bryony Gordon, Prince Harry revealed he came "very close" to having a "complete breakdown" as he struggled with the death of his mother – Princess Diana. "I can safely say that losing my mom at the age of 12, and therefore shutting down all of my emotions for the last 20 years, has had a quite serious effect on not only my personal life but my work as well," the 32-year-old said. "I have probably been very close to a complete breakdown on numerous occasions when all sorts of grief and sort of lies and misconceptions and everything are coming to you from every angle."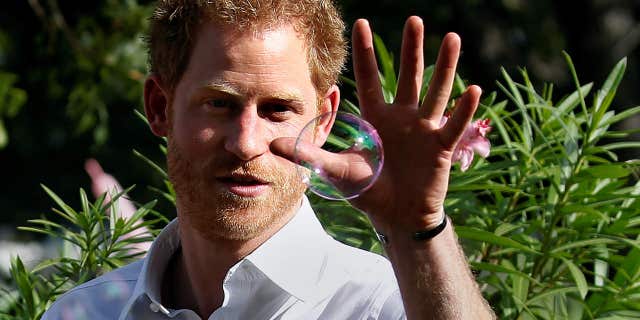 UNITED CHANGES COMPANY POLICY, CREW CANNOT DISPLACE SEATED PASSENGERS
COMING UP ON FNC
9:40 a.m. ET: Ben Collins, U.S. Army Special Forces veteran, joins "America's Newsroom."
1:20 p.m. ET: Adam Goodman, a Republican campaign strategist, joins "Happening Now."
2:00 p.m. ET: Sen. Dianne Feinstein, D-Calif, holds a town hall meeting in San Francisco. Watch live on FoxNews.com.
2:00 p.m. ET: Vice President Pence and South Korea Acting President Kyo-Ahn hold news conference. Watch live on Fox News Channel and FoxNews.com.
COMING UP ON FOX BUSINESS
3:00 p.m. ET: Liz Claman sat down with the Managing Director of the International Monetary Fund and got her take on a wide range of issues including President Trump's economic plans, European elections and a strong dollar.
FBN COVERAGE
TAX REFORM STILL POSSIBLE BY YEAR'S END, GROVER NORQUIST SAYS
As Tax Day approaches for Americans, Grover Norquist said Sunday he still expects a tax reform package to be completed by the end of the year.