More than $24,000 Donated to Arizona Sheriff Legal Defense Fund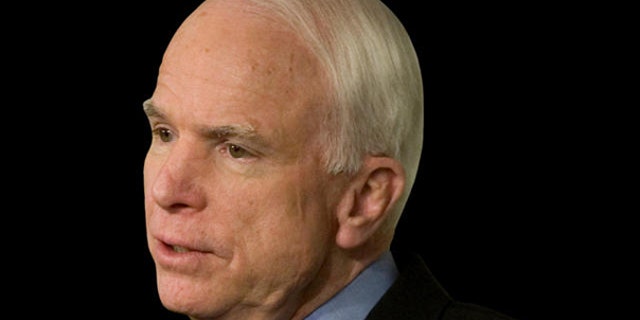 More than $24,000 has been donated to a legal defense fund for two Arizona sheriffs targeted in lawsuits that seek to block enforcement of Arizona's new immigration law, FoxNews.com has learned.
Roughly 300 donations ranging from $10.70 to $5,000 have poured in from 26 different states since a website for the fund, BorderSheriffs.com, was launched last Thursday. Arizona Sen. John McCain has pledged the largest donation to the fund.
"The fact that more than 300 people from all across the United States have donated to the cause says a lot," said attorney Jordan Rose, who has been retained by Pinal County Sheriff Paul Babeu and Cochise County Sheriff Larry Dever, both of whom are named in a lawsuit filed by the American Civil Liberties Union.
"The boost from Sen. McCain supporting law enforcement in Arizona was enormous, and that's sparked interest," Rose said.
Rose said she's exploring "every creative angle possible" to countersue the federal government pertaining to the Department of Justice's lawsuit filed against S.B. 1070, which takes effect July 29. The law requires police officers conducting traffic stops or questioning suspects about legal violations to ask about their immigration status if they have "reasonable suspicion" that the individual is in the U.S. illegally. Critics say the law is unconstitutional and will lead to racial profiling.
"If we can't countersue, we will certainly address the issues as best we can," Rose told FoxNews.com.
Funding for the legal defense will be provided by the Legacy Foundation, an Iowa-based, nonprofit 501(c)(3) organization created in 2008 by Rep. Christopher Rants, R-Iowa, who formerly served as the state's House speaker.
Rants, who is not seeking re-election, said defending the law will probably be very costly, especially if the case reaches the U.S. Supreme Court. He said he will now work to defend Arizona's law.
"My mission is to try to spread what's going on here," Rants said. "We're hopeful as the message gets out about what's going on, that it'll generate a lot of interest nationwide."
Rants said donations to the fund have come via mail and online -- and from states as far away as New Jersey and Ohio.
"It's one of those things where word starts to travel," he said. "For the most part, it's been small donors, but we haven't even been operational for a week yet."
Sheriff Dever, whose county borders Mexico, said he found it "despicable" that he was named in a lawsuit connected to the new law.
"I have spent 30 years defending this border against both criminal and economic attacks against the United States," Dever said in a statement. "To sue my office, for defending this nation and our local, state and federal laws is despicable."
Meanwhile, contributions to Arizona's fund to help pay to defend the law totaled more than $1.2 million as of last week, the Associated Press reported.
Gov. Jan Brewer's office said 24,767 online contributions totaling $1,149,087 were made through last Thursday morning, with an additional $110,000 donated through mailed contributions.
Brewer established the fund in late May, and donations surged after the Department of Justice filed a court challenge to the law on July 8. Within two days of that filing, contributions of more than $500,000 were received, AP reported.