More black women turning to guns for self-defense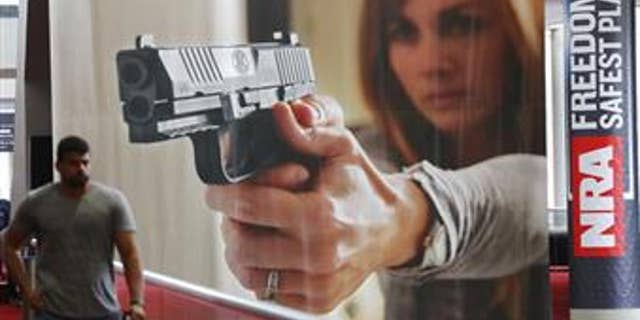 Firearms instructors are reporting an increase in the number of black women learning how to use guns in self-defense courses around the country -- and the reasons are varied.
"Minority women are definitely increasing in numbers," Rick Ector, a firearms instructor, said of attendees at his weekly course just outside of Detroit.
"Women overall -- in particular, minority women -- are looking toward guns to protect themselves against crime," Ector told Fox News. "Women are definitely drivers in the market right now."
Other cities, like Savannah, Dallas and Cincinnati, have also seen an uptick in the number of minority women signing up for gun-training courses.
In Georgia, for instance, trainer Marchelle Tigner referred to the observation as a "movement" in an interview with the Guardian newspaper.
Tigner, who launched Trigger Happy Firearm Instruction in November, told the paper she had to expand room in her classes, which sold out after promoting them through social media.
"The growth of these classes – I never expected it," she told the newspaper. "It shows me how unsafe these women feel in their communities."
Stacy Washington -- a conservative African-American columnist suspended last week by the St. Louis Post-Dispatch after she defended the National Rifle Association from comparisons to ISIS -- also noted a trend of more minority women learning how to use guns.
"I believe the reason we're seeing more women of color joining this movement to use firearms is because they're realizing this is not a political issue," Washington told Fox News. "It really never has been. It's about personal safety and protection."
'I believe the reason we're seeing more women of color joining this movement to use firearms is because they're realizing this is not a political issue.'
"There is definitely an uptick in ownership among minority women," said Washington. "A firearm is an equalizer for women because women have a harder time defending themselves when they're attacked by a man; men have more body mass."
Washington was suspended by the St. Louis Post-Dispatch on Friday after a column titled "Guns and the Media" disputed an anti-NRA article that argued since more Americans die from guns than from ISIS, the Second Amendment advocacy group is the greater danger.
Washington said she was suspended in an email from her editor, accusing her of not disclosing a "paid or unpaid professional affiliation" with the NRA. Washington said after she informed her editor she had no such affiliation with the NRA, he "shifted the criticism to the column, saying there were factual errors." When Washington questioned what those errors might be, she said she never got a response.
The reasons cited for an increase in gun ownership among minority women are varied. Ector noted an increase in rape cases in the Detroit area and said, "There's a huge rape problem here in the state of Michigan." When Ector started as an instructor 10 years ago, he said he typically encountered only one woman in a class of about 15. Now, he said, "women make up half the classes."
Other minority women, meanwhile, have cited the current political landscape -- in particular, Trump's presidency -- as a reason to learn how to protect themselves, claiming racists have become more blatant since Trump took office and they feel unsafe.
Niecee X, one of the founders of the Black Women's Defense League in Dallas, told the Guardian that in the wake of Trump's campaign and presidency, "A lot of people are feeling unsafe."
A representative from the Black Women's Defense League declined to comment when contacted Monday.
John Lott, of the Crime Prevention Research Center, published data in July showing a general upward trend in the percentage of people with permits to carry a concealed firearm are women in seven states -- including Arizona, Florida, Indiana and Louisiana.
In a paper titled, "Concealed Carry Permit Holders Across the United States: 2016," Lott wrote that, "While whites still hold the vast majority of permits, the number of black permit holders has grown more than twice as quickly as the number of white permit holders."
"Concealed carry has increased most rapidly among black females," Lott concluded. "From 2000 to 2015, the rate of growth was 3.81 times faster than among white females."
In a statement to Fox News, NRA spokeswoman Catherine Mortensen said: "Women are the fastest growing segment of firearms buyers in the country."
"The NRA is a natural home for women firearms owners," Mortensen said. "Increasingly, women today don't want to rely on a spouse or neighbor for protection. They want to be able to protect themselves and their families."