Mom punches homeless woman to stop alleged kidnapping of daughter: records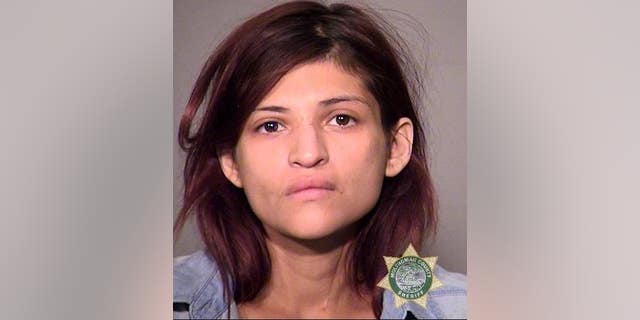 An Oregon mother punched a homeless woman in the face after she allegedly tried to abduct her young daughter on Sunday, court records showed.
Stephanie Romero, 25, was arrested on burglary, theft and kidnapping charges. She was being held at the Multnomah County Detention Center and her bond was set at $352,500, KPTV reported.
Lilyana Salazar, 6, was playing outside her Portland apartment with her friends and brothers when Romero apparently walked over and told the child she was her daughter, KPTV reported.
"Come on, I'm gonna take you on the bike trail, follow me," the girl recalled Romero saying to her, court papers stated. The girl said the woman pulled her by her wrist but she was able to flee into her apartment. However, Romero followed the girl inside before the girl's grandmother told her to leave.
WEST VIRGINIA MAN ARRESTED AFTER 17 RATTLESNAKES FOUND IN HOME
Romero was allegedly taking things from the residence and putting it in a bedsheet when the mother, Summer Salazar, confronted her. The elder Salazar was doing laundry when her son came over to tell her about Romero.
"I'm taking the stuff and I'm taking her," Romero told the mother, according to court documents.
Salazar told Romero she wouldn't leave with her daughter and punched her.
"My first reaction was 'I'm going to hit her or she's going to take my kid or something,'" Salazar told KPTV.
"But she came in to pull my daughter out," she continued. "She was really taking her. She had stuff packed. She was packing stuff for her."
4 OHIO CHILDREN ABDUCTED BY MOM, BELIEVED TO BE IN DANGER AND HEADING TO FLORIDA, POLICE SAY
Romero dropped the objects and left the apartment before hopping a fence and walking toward a trail, where police later arrested her.
"To tell you the truth, it got me pretty angry, you know," German Salazar-Lopez, the girl's father, told KPTV. "You know, thank God I didn't get a hold of her when she stepped in the house because it would've been a different story."
While she was interviewed, Romero told the court staff at the county jail that she was "diagnosed with bipolar disorder, anxiety and depression," The Oregonian reported. She also said her daughter was in the state's care.