Mock slavery lesson at California high school stirs outrage among parents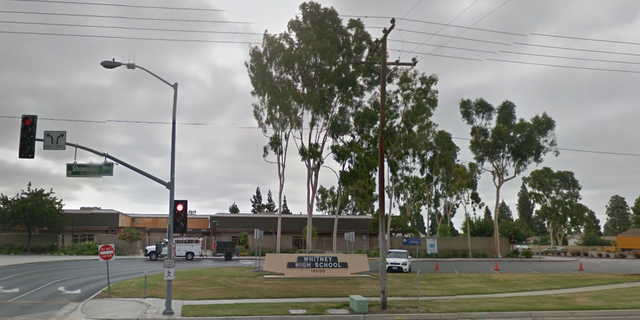 A California high school is facing a backlash after administering an interactive mock slavery lesson to students.
In the activity at Whitney High School, 8th grade students played the part of slaves, with their hands bound with masking tape, CBS Los Angeles reported. The teachers played the part of the slave ship captains.
An explainer of the lesson plan was emailed to parents Sept. 5, describing it as a "simulation activity" looking to teach "students about the slave system in colonial America." One parent posted a copy of the letter to Facebook.
It said the teachers would line the students up outside their classrooms, tie their wrists together with masking tape and make them lie on the ground inside a dark room while they watched a clip from the movie "Roots."
It also said that the activity was meant to be a surprise because it was "more powerful" when it was something the students were "not prepared for."
After detailing the activity, the teachers wrote, "The idea is for them to be uncomfortable and to feel mistreated, like a piece of property. However, please rest assured that your child will not be physically or emotionally hurt/harmed in any way."
HIGH SCHOOL STUDENT CALLED 'BUSTY' AND 'PLUS-SIZED' BY TEACHER, GIVEN DRESS CODE VIOLATION, MOM CLAIMS
The parent who posted the letter on Facebook reportedly told the school that her son would not be participating.
"As the mother of a black child, I feared that my son's participation would lead him to experience trauma, perhaps at a cellular level, and have a visceral reaction of anger and fear during the exercise itself," she told the Huffington Post.
The program was removed from the curriculum on Monday, according to CBS Los Angeles.
Other faculty members at the school reportedly agreed with the decision.
"I think there are other ways to teach tolerance and maybe even better ways and best practices to broach these sensitive topics," an English teacher at the school told CBS Los Angeles.
Dr. Mary Sieu, Superintendent of the ABC Unified School District issued a statement to Fox News.
"On Monday, Sept. 18, Principal John Briquelet met with all the teachers at Whitney HS as well as broadcasted to all the students that the controversial history lesson for 8th grade will be discontinued," Sieu wrote. "He met with parents and community members regarding this decision as well. He and the teachers will work toward designing a more impactful and relevant lesson around the new History Social Studies Framework. This year, the District is in the process of adopting new textbooks and materials to meet the new History Social Studies Framework."