Missouri teen searched 'scary movies where kids kill parents' before fatally shooting parents, documents show
A Missouri teenage girl searched "scary movies where kids kill parents," saved rap lyrics about wanting a father dead and drew disturbing stick figure cartoons showing her shooting her dad before both her parents were found shot to death in their home, court documents stated.
Daejona M. Holmes, 15, was charged with second-degree murder, two counts of armed criminal action and tampering with physical evidence on Monday and the shooting deaths of her parents, Kinderly Holmes, 37, and Brian Starr, 38, FOX4KC reported.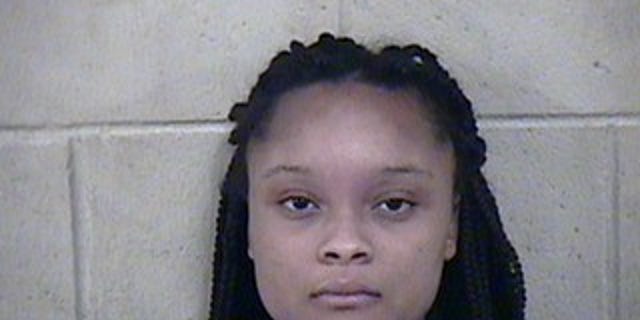 On April 9, Holmes called 911 to report a robbery at her parents' house in Kansas City. Police arrived at the scene and found Kinderly Holmes and Starr dead. Upon officers making the gruesome discovery, Daejona Holmes changed her story and told officers she shot her father after he gunned down her mother.
DAD ARRESTED AT MUSLIM 'EXTREMIST' NEW MEXICO HOME PLANNED 'EXORCISM,' TIED TO TERROR-LINKED IMAM, REPORT SAYS
Investigators began uncovering details about Holmes in the months following her parents' death, including Internet searches that showed the teen had looked up "scary movies where kids kill parents," cops said. A video also showed Holmes holding a gun while dancing in her bedroom and rap lyrics talking about killing a father were saved on her phone, FOX4KC reported.
Police said they located a drawing showing a stick figure labeled "me" pointing a gun at the "dad" stick figure. Another drawing allegedly showed the "dad" stick figure with X's on its eyes laying in a pool of blood.
Holmes string of suspicious actions continued when she gave two separate accounts of the deadly shooting, officials said. The teen had initially said her parents were fighting when she heard a gunshot that prompted her to go upstairs, where she found her mother dead from a gunshot wound in the bedroom. She then picked up the gun and shot her dad, court documents stated.
Her father was reportedly shot three times, including in the mouth. She said she fled the house and tossed the gun in a nearby yard.
But about a month later, Holmes was questioned by police again and authorities say she admitted to changing her clothes before fleeing the house. She said she moved her father's body closer to the front door and went back to the house twice, grabbing her cellphone and her mother's phone, FOX4KC reported.
Investigators discovered she made nine calls using her mother's cellphone.
When questioned, Holmes could not provide a reason why she didn't leave the house when she heard the gunshot, why she waited an hour to call 911 after and why she made the phone calls.
A witness told police he met Holmes at a McDonald's after she called him for help. He added that he convinced Holmes to call 911 after she told him her parents had been shot.