Missouri duck boat survivors rescued by off-duty cop, marina workers
When a Missouri duck boat carrying 31 people capsized after hitting turbulent swells on a Branson-area lake Thursday, a nearby off-duty police officer didn't hesitate to jump into the chaotic scene to attempt to save as many people as possible — and the cop wasn't alone.
Stone County Sheriff Doug Rader told reporters other employees and passengers on the Showboat Branson Belle joined the unnamed officer, who was working security for the popular riverboat at the time of the rescue. The police department partners with the Branson Belle, located on Table Rock Lake, to help with security, an officer told Fox News on Friday.
"That is very outstanding," Rader said, referring to the handful of volunteers who assisted with the search and rescue mission.
Missouri Gov. Mike Parson said the efforts of emergency responders and civilian rescuers helped prevent an even worse tragedy. He called the efforts of emergency responders and civilian rescuers "courageous" and said he was inspired by them.
People rushed in to help "in extremely dangerous conditions," the Republican governor said.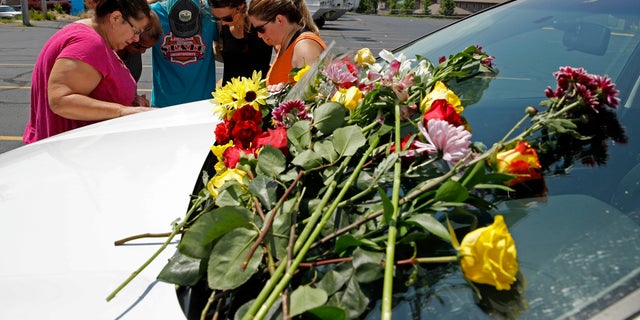 Officials confirmed 17 people died when the popular duck boat capsized Thursday shortly after 7 p.m. Central time. Seven others are in the hospital with various injuries, and all other passengers and crew members are accounted for.
National Weather Service meteorologist Steve Linderberg said a top wind speed of 63 mph was measured around 7 p.m. Thursday at Branson Airport, and the winds were likely even stronger over the lake. Videos from the scene showed choppy, violent waves rolling through the water.
DUCK BOAT CAPSIZES ON MISSOURI LAKE RESULTING IN MULTIPLE CASUALTIES
Wade and Melissa Johnson, who were visiting from Iowa, were waiting to board the Branson Belle when the duck boat sank. Wade, a member of the Iowa Army National Guard and emergency room nurse, helped members of the showboat's crew rescue and treat the duck boat's passengers, the couple told WHO-TV.
"I feel pretty good just knowing that I helped out and did everything I could in my power during this tragic event."
Wade said he worked on several passengers — some lived and others, including a child, did not.
"I feel pretty good just knowing that I helped out and did everything I could in my power during this tragic event," he told the news station. "I do feel sad, and I can feel for the loss of the families, knowing that they are now without their loved ones while they are here."
Pat Cox, owner of a nearby marina, speculated the duck boats were trying to get back to shore as the storm suddenly swooped in. He praised a store manager and about 20 other employees who rushed to the scene with boats and safety equipment.
"We took immediate action," Cox told the Springfield News-Leader. "Our store manager, Roger [Carpenter], was the quickest to act."
State Park Marina is located about three miles south of the Branson Belle showboat on the lake.
Cox said his employees were able to save two people and recovered three bodies – none of whom were children.
DUCK BOAT SAFETY AGAIN CALLED INTO QUESTION AFTER MISSOURI TRAGEDY
Trent Behr and his girlfriend, Allison Lester, were having dinner on a nearby showboat when their boat's crew began screaming for help. Behr said some of the crew leaped into the water to rescue people, and he helped drag one unconscious woman from the water, the Kansas City Star reported.
He has no idea if she survived.
Branson Mayor Karen Best said the town has come together to support the victims and their loved ones during this time – from providing tissues for tears to getting dry clothes for those who were in the water. Domino's delivered pizzas to those waiting to hear about loved ones at Branson City Hall, and Hurts dropped off doughnuts.
"We can't replace their loved ones, but we can at least be there to provide support for them," Best told KOLR-TV.
The Stone County Sheriff's Office has continued to ask for prayers for victims, survivors and families and said it has been "overwhelmed with donations of water and food." A candlelight vigil is scheduled for Friday night.
Investigators said the duck boat sank into the lake where it remained Friday afternoon. Duck boats can travel on both land and water.
President Trump offered his "deepest sympathies" Friday to those involved in the tragic accident.
Fox News' Bradford Betz, Paulina Dedaj, Jeffrey Rubin and The Associated Press contributed to this report.