Missouri could see new flood dangers as storm approaches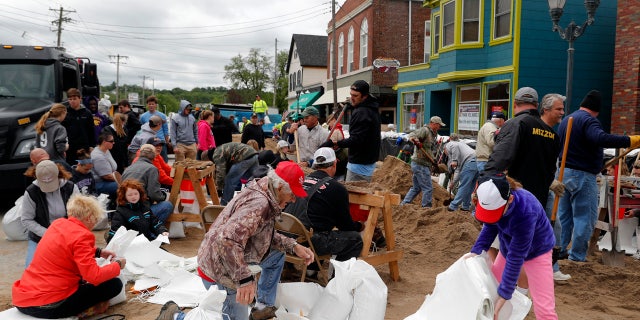 The deadly flooding that's paralyzed parts of Missouri could bring even more danger this week, with some 1,700 homes in suburban St. Louis threatened by the rising wall of water.
TERRIFYING RESCUE OF TEXAS TODDLER, BABY CAUGHT IN DRAMATIC VIDEO
The Meramec River is close to flooding after heavy rain hit the state over the weekend, triggering flash flooding that killed at least three people and forced evacuations.
Forecasters say up to 2 inches of rain could fall in the St. Louis area Wednesday and Thursday. St. Louis Police Chief Jon Belmar has asked people who live behind Meramec River levees to get out, since he could not guarantee those levees would hold.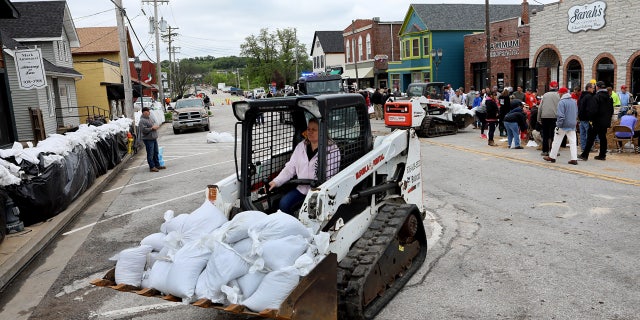 TEXAS TORNADO: CHURCH PARISHIONERS THANK 'GRACE OF GOD' FOR SAVING THEIR LIVES
What's more, he said the water was "filthy," adding, "There are all sorts of health issues down there. We strongly urge them to evacuate until we can get this under control."
The river is threatening towns of Valley Park, Eureka and Pacific. Valley Park's mayor has ordered mandatory evacuations while Eureka's residents are sandbagging to limit flooding.
The Missouri Department of Transportation announced it will be closing I-55, Lemay Ferry and Telegraph Road after midnight Tuesday night as the Meramec River rises, Fox 2 reported.
More than two dozen U.S. Army Corps of Engineers workers are patrolling the Missouri Bootheel and northwest Arkansas area to make sure levees and other flood structures hold back the water, Corps spokesman Jim Pogue said.
The southern Missouri town of West Plains is cleaning up after flooding from Howell Creek caused tornado-like devastation in parts of the community, destroying buildings, ripping up part of the high school track and sending cars careening down the waterway. Among the 70 water rescues over the weekend, nearly two dozen college students were rescued from the roof of a student housing building.
The Associated Press contributed to this report.