Mississippi Residents Eager to Return to Homes After Flooding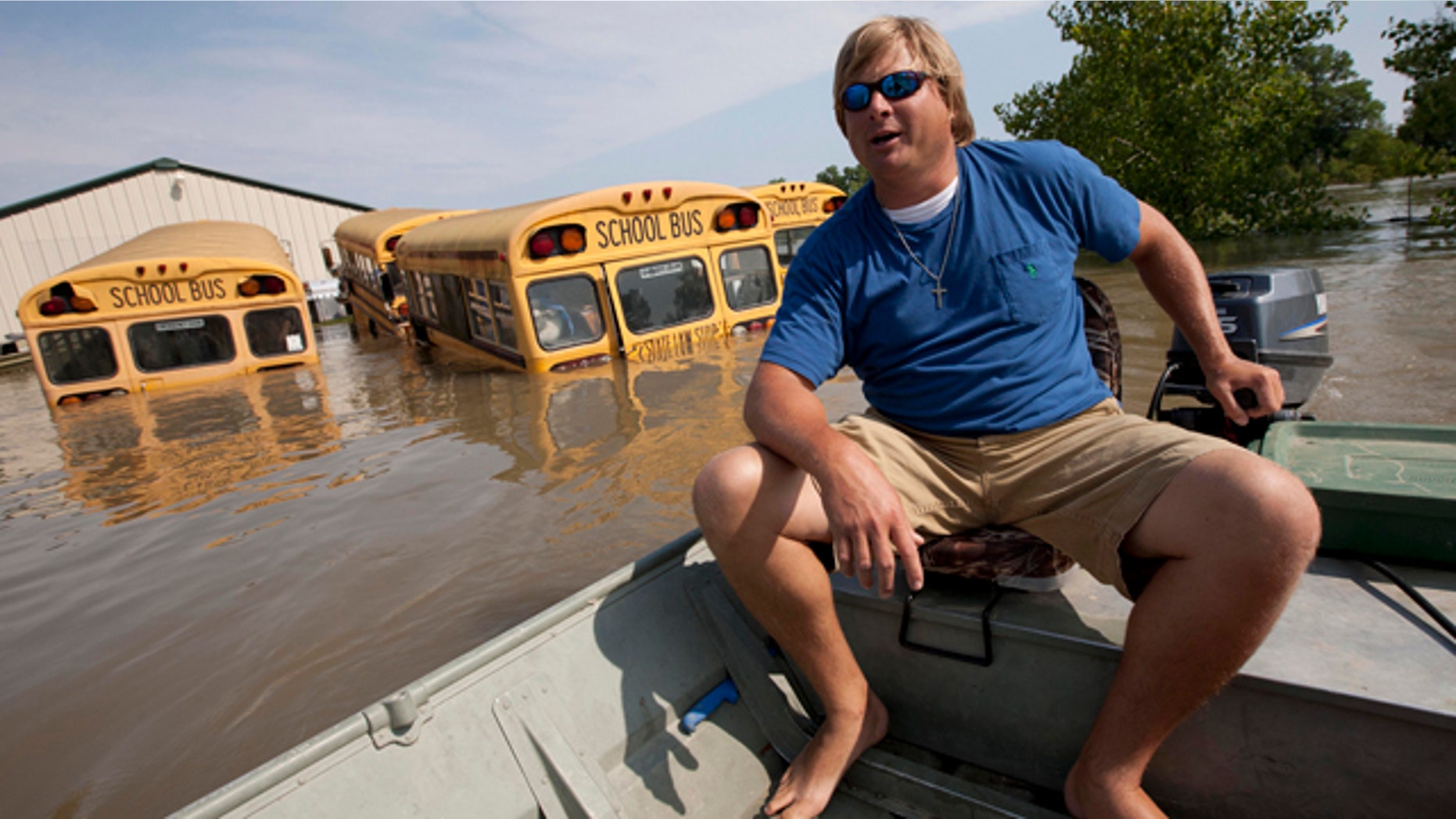 VICKSBURG, Miss. -- Chris Lynn fired up his small aluminum boat Saturday and traveled nearly a mile to his father's flooded house, navigating around power lines that nearly touched the water and street signs that were almost submerged.
His father's house is built on a 15-foot high mound of dirt on the banks of the Mississippi River at Vicksburg and is now like an island in the murky water.
"It looks like the water has come down about 2 inches," Lynn said. "That's good. The floor is starting to dry out."
He grabbed his cell phone and called his 73-year-old father to tell him the good news.
The Mississippi River is receding ever so slowly here, but every inch it goes down brings hope to people eager to return home.
"We're just ready to get back to our lives," said Lynn, a 38-year-old mechanic who has also been forced from his home by the flood.
Lynn's father, Johnny, and his uncle, James, both built their houses on mounds they built. They stayed in their homes as long as they could, even after the electricity was shutoff, living on what became two islands in the river. Chris Lynn said father refused to leave until water crept into his house.
"They would just sit there looking at each other across the water," Chris Lynn said.
Neighborhoods in Vicksburg that have been flooded for weeks remain swamped Saturday with water higher than some mailboxes and street signs and up the roofs on some homes.
Even though the Mississippi River is slowly falling, it is still so high that water is backing up into its tributaries, especially the Yazoo River.
Marty Pope, a senior service hydrologist with the National Weather Service in Jackson, said Saturday that the Yazoo River is not expected to crest until Monday at Yazoo City and two days later at Belzoni/
Pope said that means while floodwaters are going to recede in some areas thy will cotinine to rise in others.
"I'll be glad to see that water start surging the other way," Pope said.
The Yazoo and Mississippi rivers converge at Vicksburg. The area from Vicksburg northeast to Yazoo City, along the Yazoo River, has seen some of the worst flooding in Mississippi.
Mississippi Sens. Thad Cochran and Roger Wicker applauded the Army Corps of Engineers on Saturday after a flying tour of flooded areas along the Mississippi River.
The Republican senators, speaking with reporters on a Vicksburg bluff overlooking the river, said the most important thing was that the levees and the entire flood control system had worked as designed.
Wicker said that doesn't mean there won't be lingering problems.
Wicker said the flooding has dumped sediment that will have to be dredged from ports and harbors along the river. He said there may be a need to seek a federal budget supplement from Congress to fund those projects.
Cochran, the ranking Republican on the Senate Appropriations Committee, said the flooding is one of the biggest disasters in recent memory. He said the flooding in places stretched out as far as he could see.
"It's going to a long time before we fully recover," Cochran said. "We can overcome this disaster."
The river was at 56.7 feet at Vicksburg on Saturday, down from the crest of 57.1 feet. It's still above the 1927 record of 56.2 feet.
"According to the latest forecast, it's going to stay above the previous record all the way through early Wednesday morning," said Brian Koeneke, a meteorologist with the National Weather Service in Jackson.
The river was 61.7 feet at Natchez on Saturday, down from the 61.9 feet it crested at. That's still above the 1937 record, which was 58 feet.
The good news for flood weary residents is the water is no longer rising at any point it's measured in Mississippi.
But the flood is far from over. Forecasters say it could take weeks for some places to dry out. And the Mississippi is so high that tributaries like the Yazoo River are still backing up, bringing misery to farms miles from the river.
The 2011 flood has displaced about 2,168 people in Vicksburg and Warren County, the Mississippi Emergency Management Agency has said. Most are believed to be staying with relatives and friends. More than 4,800 people have been displaced statewide, MEMA has estimated.
Corps spokesman Wayne Stroupe said crews continued to repair a 250-foot slide of the main river levee near Lake Albemarle north of Vicksburg in Issaquena County that occurred earlier in the week. He said slide never posed a danger to the levee.
The problem was discovered Tuesday and will take up to a week to repair, he said.
Such slides occur when the levee gets saturated and the dirt slips into the river.
"Everything is looking good and everything is holding," Stroupe said.
While cheered as the river drops, those in Vicksburg most concerned with watching it -- law enforcement, levee officials and displaced residents -- aren't seeing see much of a change.
"Even if you see a drop of an inch or two, you can't tell the difference," Warren County Sheriff Martin Pace said. "In the areas affected by the flood, inches are academic when you have water in your attic."
Robert Simrall, division chief of the U.S. Army Corps of Engineers Water Control Division, said sand boils on the levee are under control and have been sandbagged.
"We're looking at another month or so above flood stage," he said. "People need to still be aware of what's going on. The flood's not going away just because we hit crest."
The same is true in Natchez, where the river also crested earlier and lower than projections.
U.S. Army Corps of Engineers hydrologic technician Wayland Hill said back up into the Big Black River Basin and flooding in Port Gibson may have also lowered the river's water level by providing storage for the water.
The river is expected to sit in Natchez at approximately 61.8 feet -- though its exact level Friday night was 61.77 -- through Monday. It will decline, very slowly, from that point on, according to NWS predictions.
Gardner said the biggest unknowns remain ahead.
"Once the river goes down, we may start seeing some issues that were not exposed while the river was up," he said.
Once the water level drops below 60 feet, it will be feasible to re-supply water and sewer to the businesses at Under-the-Hill.
True comfort is weeks away; the river is only expected to drop to 50 feet on June 10. Flood stage at Natchez is 48 feet.
"You are never really safe until it gets way down there," Gardner said. "If you can get below 55, you start getting into more of a comfort zone."