Missing man's body found in collapsed South Dakota building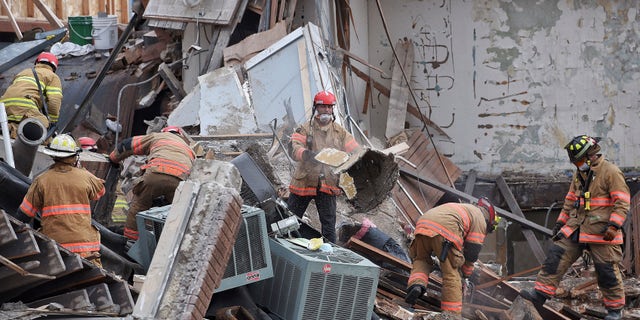 Rescue workers found the body of a construction worker Friday evening in the rubble of a building that had collapsed hours earlier in South Dakota's largest city.
Recovery of the body came hours after authorities managed to pull a woman, injured but alive, from the debris of the brick building in downtown Sioux Falls. The woman, 22-year-old Emily Fodness, was rushed to the hospital, and her family said in a statement that she's in good condition.
Sioux Falls Fire Rescue Chief Jim Sideras said officials found the body of the man in a void using a search dog. Officials don't believe anyone else is in the debris and don't know what caused the building to collapse.
"After we moved all that rubble, we did find him, and it just didn't work out for us, unfortunately," said Sideras, who didn't identify the man. Rescue workers also pulled the woman's dog alive from the rubble of the building where she lived.
SIX MORE PEOPLE DETAINED OVER CHINA PLATFORM COLLAPSE THAT KILLED 74
Sioux Falls Mayor Mike Huether said in a statement that "the family of the young man who passed needs to know they are not alone tonight in their sadness."
It was not clear what triggered the collapse. "All I know is they were taking down the old brick wall and replacing it with a two-by-six wood wall," Tim Kant, who recently sold the building, told the Argus Leader. Photos showed a massive pile of debris spilling into a downtown street, which was impassable.
The building has been vacant since the Copper Lounge closed in September. Lewis Drug planned to open in the space next spring.
The collapse broke sprinkler systems there, the newspaper added.
Beckie Hurley, of Sioux Falls, was across the street when she saw a wall of bricks collapsing and then a wave of dust. The 34-year-old who works at a manufacturing company left her belongings in a coffee shop to run outside, thinking there were probably people in the structure.
"For a couple of minutes, it was just a stunned silence," Hurley said, before first responders arrived.
The Associated Press contributed to this report.