Minnesota Teen Suffers Burns After Science Class Experiment Goes Wrong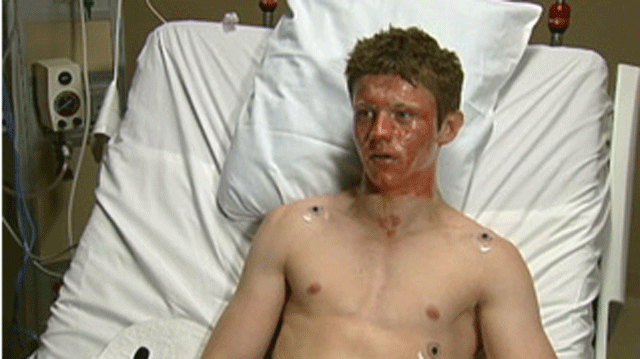 MAPLE GROVE, Minnesota – Instead of competing with his wrestling team, a 15 year-old Chicago boy is spending his Thursday night in a burn unit at Hennepin County Medical Center and shares his experience about the classroom blast during science class that sent him there, reports MyFox9.
Dane Neuberger and three other Maple Grove Junior High School students were burned in a science experiment gone terribly wrong at about 10 a.m. during second period. The three others were treated and released, but Neuberger is still in the hospital suffering from second-degree burns on his face and neck.
Neuberger said he was simply taking notes in class when suddenly and out of no where- he was on fire.
He was sitting in the front row when his teacher had asked the ninth-grade class to turn their desks toward a lab table while he conducted experiments. They were learning about a flammable substance called methanol, when the flame that was supposed to stay in the bottle and consume the methanol didn't, and the container exploded.
It hit some of the alcohol left on a lab table, caught fire, and hit Neuberger in the face, neck and hand. It also caught his shirt, which he ripped off while the teacher rushed to help him.
"I was on fire. He was wrapping me with a fire-proof blanket," he recalled. "People were screaming -- just ran out."
Eighth grader, Alex Vojta said, "I see a kid running down the hallway...burned, black, no shirt, running down the hallway screaming."
Neuberger recounts his experience saying, "Immediately, I was in shock, so I didn't feel much. When I was sitting in the nurse's office, it was unbearable -- felt like I didn't have my lips."
Dr. Ryan Fey is a burn surgeon at HCMC's Burn Unit, and affirmed the severity of Neuberger's wounds.
He said, "Burns hurt. They are quite painful."
But he offered some hope in saying that they may be able to heal without skin grafts and possibly without permanent scarring.
"If the wounds heal in about 10 days, then we'll know," Fey said. "The risk is pretty minimal."
Even though the damage was done in just a few minutes, the journey back to health will be a long, difficult road.
Tomorrow, nurses will have to shave Neuberger's head, and he will have to remain at HCMC for a few more days before he can go home.
Both the school district and state fire marshal are investigating the incident.
Click here to read more on this story from MyFox9.