Minnesota man arrested after pushing boy, 8, off 31-foot water slide, police say
A Minnesota man was arrested after picking up an 8-year-old boy and throwing him off a water slide platform Tuesday, causing the child to fall more than 30 feet, police said.
Apple Valley Police told FOX9 the incident happened around 1:35 p.m. at the Apple Valley Aquatic Center, located about 20 miles south of Minneapolis.
"There was no argument, no pushing, no shoving, no words exchanged, just this individual walking up and throwing this poor kid off the top," Apple Valley Police Captain Nick Francis said.
Police said that 18-year-old Roman Adams admitted to police in an interview to pushing the boy, saying the he was upset the line was taking too long, according to Francis. Investigators learned that Adams has cognitive disabilities and that a personal care assistant was with him at the water park, but it was unclear if the aide was with him in line, WCCO reported.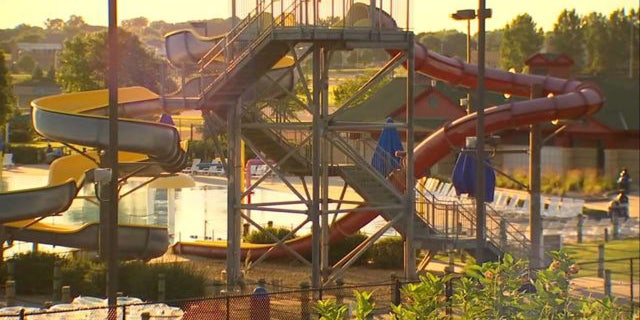 KANSAS WATER PARK TO TEAR DOWN SLIDE 2 YEARS AFTER BOY'S BEHEADING
The 8-year-old boy sustained multiple broken bones, and is in stable condition at a hospital after undergoing surgery. Adams is facing possible charges for third degree assault, according to FOX9.
The waterpark was forced to close after the incident, posting on Twitter "Due to unforeseen circumstances the Apple Valley Family Aquatic Center is closing for today. We regret the inconvenience. Please join us another day for fun in the sun."