Minnesota driver allegedly shoots deputy with bow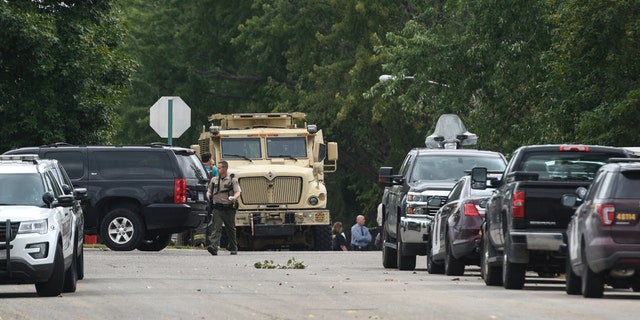 A Minnesota deputy took an arrow to one arm on Thursday after a suspect fired at him with a bow during a wild pursuit, officials said.
The Stearns County Sheriff's Office was pursuing a stolen black pickup truck about 10 a.m. when the suspect, an as-yet unnamed 31-year-old, drove the vehicle through "multiple backyards and smashed into parked vehicles."
According to authorities, the man ran into a home through an unlocked door after crashing through a garage on the 700 block of 10th Street S. in Sauk Centre.
Law enforcement from multiple agencies attempted to clear the home; the suspect appeared from the second floor and fired at Deputy Paul Orvis, striking him in the left forearm with an arrow.
The authorities fired repeatedly at the suspect, who was hit in "the left shoulder, the buttocks and had a grazing wound to one of his hands."
After two hours of negotiations, the suspect came forward, was hit with a stun gun and apprehended. He was taken to a hospital, then airlifted to another facility for further treatment.
Orvis was sent to surgery to remove the arrow and "treat a possible broken arm." He was listed in good condition by the hospital.
The St. Cloud Police Department and the Minnesota Bureau of Criminal investigation will look into the episode.
Police say the "compound bow" belonged to the homeowner, not the suspect.