Millions on the US coast prepare as monster storm approaches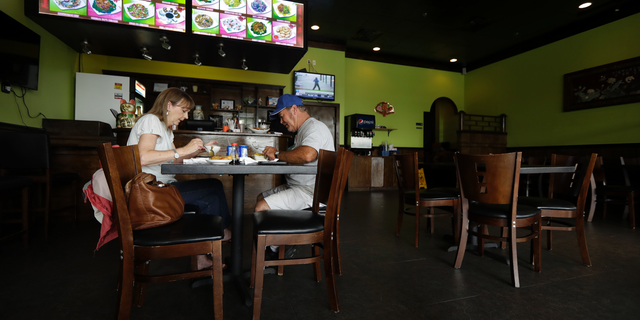 Millions of people in the path of Hurricane Florence are frantically preparing for a monster storm that's anticipated to make landfall as early as Friday afternoon. Residents in states from Virginia to Georgia — especially those who live in flood-prone areas or on the coast — must decide whether to stay or go.
Here are some snapshots of a region awaiting the hurricane:
WAKE FOREST OPENS ITS DOORS
The home of Wake Forest University basketball is serving as a temporary shelter for people trying to escape Hurricane Florence.
The Lawrence Joel Veterans Memorial Coliseum in Winston-Salem opened its doors Wednesday night for what was expected to be several busloads of Wilmington-area residents seeking refuge. By mid-morning Thursday, the arena had only 23 people using it.
American Red Cross shelter team manager Jaici Murcia said the coliseum was opened out of a concern that shelters closer to the coast would be overflowing. Murcia said the initial word was that 500 people would be coming to the coliseum. Murcia said the arena is set up to handle up to 1,000 people.
"It looks like they found some alternate sheltering closer to their homes," Murcia said. She said several buses did arrive at the shelter, and some people drove their own cars there as well.
Shelter residents can sleep on cots set up on the coliseum floor. They have access to three meals a day and can take showers as well. Charging stations are also being installed to allow people to keep up with family members wherever they might be. Nurses and mental health providers are also stationed at the shelter.
Murcia said she expects the shelter will be open through the weekend. Winston-Salem is 221 miles (355 kilometers) northwest of Wilmington.
SAFE BUT BORED
Life in a Red Cross shelter can mean safety from approaching Hurricane Florence, but it's really boring.
That's the observation Thursday of Charlie Wynn after about 24 hours inside the high school in the town of Washington near the North Carolina coast.
He lives in Washington with his mother, who had a stroke a few years ago. She feared some of the many trees in her yard being blown down by the storm and wanted to get out.
Mother and 28-year-old son arrived at the shelter housing up to 500 on Wednesday afternoon. Wynn said without TV, radio or Internet, he's had a lot of time on his hands.
"Time moves so slowly here," he said. "It's only 2 o'clock, but it seems like it should be 8 o'clock."
LAST MINUTE RUN FOR SUPPLIES
Marcus Hester stopped by one of the last stores open in downtown Wilmington, North Carolina, Village Market Grocery, to stock up so he could ride out the storm at his house in Wilmington.
At Village Market Grocery, Hester bought "canned foods, things that don't have to be heated," he said.
He said he felt safe even though Wilmington is in the current path of the storm.
"We're 20 to 30 feet above the river. You're not going to get any flooding there. We're miles from the beach," he said.
The few restaurants still open in Wilmington were drawing hungry customers preparing to spend hours inside as the storm approaches.
A Waffle House was doing brisk business with a limited menu. A waitress said staff members were staying in a hotel across the street and planned to stay open as long as they could, using gas and generators for power.
At the Paper Crane Asian restaurant, Sharon and Sammy Edwards ate lunch Thursday afternoon as wind picked up outside. They said they made a reverse evacuation - driving down from Rocky Point 15 miles away to stay with Sammy's brother.
They live in a low-lying area so they felt safer driving 10 miles toward the coast to stay on higher ground.
STOCKING UP AND WAITING IT OUT
Barbara Timberlake of Leland, North Carolina, walked down with her dog to look at the choppy Cape Fear River. She lives about 15 miles inland from Wrightsville Beach, in the path of the storm.
She said she was born in Wilmington and that her family always had a tradition of going to the beach to watch the ocean before a major storm hit. But the beaches are closed due to mandatory evacuations.
"It's a family tradition to go look at the ocean. Now they won't let you over the bridge, so the next best thing is an angry river," she said.
She said she and her husband felt safe to ride out Hurricane Florence in their house, even though most of their neighbors have left town. She thinks they left because most are originally from the North and not used to riding out hurricanes.
"We're in a fairly new house in a gated community," she said. "Most everyone is gone."
She said she and her husband stocked up on supplies.
"We bought rum and beer. I boiled some peanuts. Lots of bottled water," she said. "I have a gas stove so even if electricity goes off I can use it."
WORRIED BUT STAYING PUT
Julie Terrell of Wilmington decided it was safe enough to ride out the storm in her neighborhood several miles inland despite her concerns about falling trees.
On Thursday, she walked past a row of shops fortified with boards, sandbags, and hurricane shutters to look at the choppy Cape Fear River that could overflow and inundate downtown shops. She ducked into a Waffle House restaurant, one of the few still open.
Winds were causing traffic lights to sway and Spanish moss in trees to blow sideways.
She said she worries about damage in her neighborhood from old trees.
"On a scale of 1 to 10, I'm probably a 7" in terms of worry, she said.
"Because it's Mother Nature. You can't predict."
"We have a bunch of old trees in our neighborhood. Everything is old, so that's concerning," she said.
HUNKERING DOWN WITH THE CATS
One South Carolina family living two blocks from the ocean thought long and hard about leaving before Hurricane Florence hit, but they just couldn't afford it.
Mercedes O'Neill said she is scared to be in her North Myrtle Beach home with her boyfriend, her 6-year-old daughter and a son due Sept. 27 when the winds and rain pick up. But she says they couldn't afford to stay in a hotel or to drive to a shelter. And she didn't want to leave her cats behind.
A family member rented a room, but when the storm slowed down, they couldn't afford any extra days.
O'Neill's boyfriend Kelly Johnson says the couple needs to get back to work as soon as they can and returning after an evacuation can take several days.
A FINAL GLASS OF WINE
Hours before a mandatory evacuation took effect, Wrightsville Beach, North Carolina, resident Phoebe Tesh paused while loading her car to have a glass of wine on the steps of the house where she and her husband rent an apartment.
"We just love it down here so much we want to spend as time as we can," she said.
Tesh, who works in information technology for UNC-Wilmington, said she and her husband have been ferrying valuables to her parents' house on the mainland in Wilmington, where they planned to ride out the storm.
"We started out with anything that cost over $200. Now we're down to anything over $30," she said, waving toward an SUV crammed with plastic bins and various items, including a block of chef's knives. "Next time, we need a box truck."
She and her husband, a professor at UNC-W, love the beach so much they sold a house on the mainland to rent there full time five years ago. She said they typically evacuate for major storms, and even neighbors who tend to ride out hurricanes are leaving.
"We don't know of anyone who's staying for the storm," she said.
___
Skip Foreman reported from Charlotte, North Carolina, Jeffrey Collins reported from Myrtle Beach, Ben Finley from Norfolk, Jonathan Drew from Wilmington and Tamara Lush from St. Petersburg, Florida.
___
For the latest on Hurricane Florence, visit www.apnews.com/tag/Hurricanes .