Military veterans guide written by Michigan State journalism students aims to dispel myths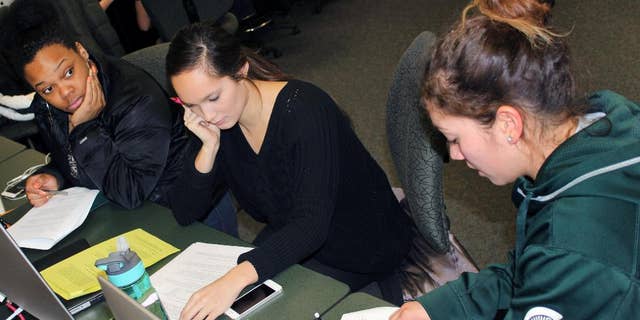 DETROIT – Wishing living U.S. military veterans a "Happy Memorial Day" might be well-intentioned but misses the mark on an occasion meant for remembering those who lost their lives.
That and other timely reminders can be found in a new book researched and written by a Michigan State University journalism class with assistance from former servicemen and women. "100 Questions and Answers About Veterans" is aimed at clearing up myths and misunderstandings held by some civilians.
"A day of mourning doesn't square with 'happy,'" instructor Joe Grimm said. "They're thinking, 'I'm still here. My day is coming in November (on) Veterans Day.'"
The book, available in print and digital versions, is the eighth that Grimm's classes have published. Others have covered Hispanics and Latinos, Native Americans, East Asians and Muslim Americans.
"Given the similarities between vets and other groups of people who are frequently stereotyped, this would be a place we could do some work," Grimm said.
Veterans told students they can feel similarly conflicted when civilians thank them for their service. People mean well, Grimm said, but some veterans say kind words can ring hollow if the person doesn't know how, when or why they served.
Joe Brigman, whose 11-year stint in the Army included three overseas tours, said the guide is both helpful and necessary.
"There really isn't a whole lot out there," said Brigman, who works in the state agency's employment section but wasn't involved with the veterans' guide. "You've got to get rid of some of the myths and rumors out there."
Another issue raised by the book is the widespread association of veterans and homelessness. Although there are many homeless vets, the guide points out they are more likely than the civilian population to start businesses or assume leadership roles in companies.
Brigman said part of his job is working on reducing unemployment among vets, which is 7.2 percent nationally for those who have served since Sept. 11, 2001. Still, he adds, the cumulative effect of media, movies and other popular culture leave an impression the figure is much higher, along with rampant homelessness, addiction and post-traumatic stress.
"That's a very small slice that's out there — there are plenty of other vets doing many other things," he said.
The book's content was reviewed by veterans of the Army, Navy, Air Force and Marines, including Jeff Barnes, director of the Michigan Veterans Affairs Agency.
Introductory essays were written by J.R. Martinez, a wounded veteran, actor, speaker and champion of ABC's "Dancing with the Stars," as well as Ron Capps, founder of the Veterans Writing Project. The guide includes six video interviews from Detroit Public Television's "Veterans Coming Home" project, which involved Michigan State students.
___
Follow Jeff Karoub on Twitter: http://twitter.com/jeffkaroub . His work can be found at http://bigstory.ap.org/author/jeff-karoub