Military training exercise sparks 4,000-acre wildfire in Florida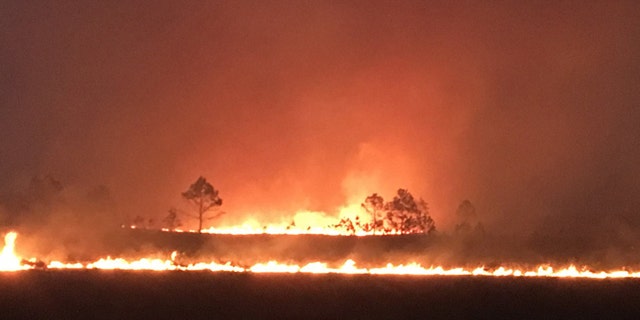 AVON PARK, Fla. – Military units conducting training exercises at Avon Park Air Force Range accidentally sparked a fire Wednesday afternoon that has since grown to cover 4,000 acres along the Polk and Highlands county line.
The day after, a spokesman says the fire is 50 percent contained and is smaller than originally estimated. Spokesman Buck Mac Laughlin said by early Thursday evening, 6,000 acres had burned.
The fire broke out around 5 p.m. Wednesday when something went wrong during a training exercise and ignited the fire. Mac cLaughlin said the culprit could have been rockets, a missile, or a bomb.
Firefighters from the range spent the night trying to get the flames under wraps.
"Big picture wise, we're just trying to box this thing in on control lines such as the road we're on now," Dale Pfau, Fire Program Manager for the Range told FOX 13.
Pfau says the fire has been boxed in on three sides so far. Firefighters are now lighting controlled burns around the rest of the fire. The controlled burns eliminate underbrush and hopefully stop the fire from spreading.