Michigan vet's 'no foreigners' home sale sign violates law, state agency says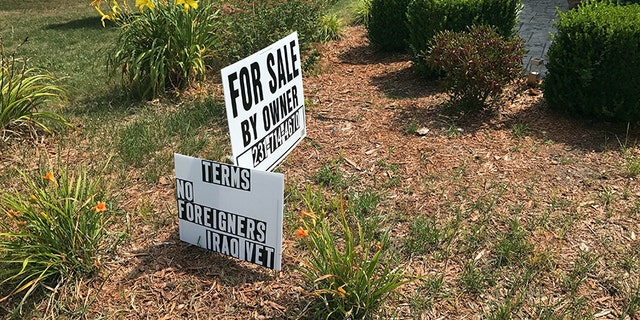 A Michigan veteran selling his home faces a civil rights complaint over a front-yard sign that says he won't sell to foreigners.
The exclusionary sign in front of James Prater's house in Mason says "Terms No foreigners Iraq vet."
The complaint was filed by the Michigan Department of Civil Rights. The agency says the sign violates state and federal discrimination laws, and wants it removed.
"When an ad like this goes unchallenged, it sends a message to the community that such ads are legal and accepted," Civil Rights Director Agustin Arbulu. "Not only may it encourage others to use similarly discriminatory language in advertising, the perception that a community accepts discrimination of this sort discourages potential purchasers from considering other properties in the area."
Prater said in a previous interview he hasn't discriminated against anyone because he's had no offers.
He's a former Army sergeant who did two tours in Iraq in 2007 and 2008, the Lansing State Journal reported Friday.
The paper broke the story about the sign last week after a local realtor spotted it.
Readers told the paper that exemptions in the federal Fair Housing Act cover private sales of property by individuals. Prater is selling his home himself without a real estate agent.
But state officials said that while there are exemptions for the sale of the property by private individuals in the anti-discrimination law, discriminatory advertising is not exempted under any circumstances, the paper reported.
The Associated Press contributed to this report.