Michigan teen starts journey carrying brother on his back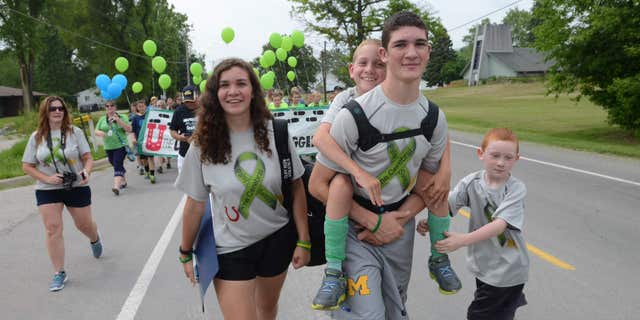 NEWYou can now listen to Fox News articles!
A Michigan teen started a 57-mile journey Friday carrying his brother on his back to raise awareness for cerebral palsy.
Hunter Gandee expected to complete about 15 miles on the first leg of his trek Friday after starting from Lambertville in Monroe County.
The tandem had reached Ida in Monroe County by 5 p.m., accompanied by family and friends. They planned to spend the night at a campground in Dundee. They are expected to reach Ann Arbor on Sunday.
Hunter Gandee's brother Braden is in a harness on his back.
"It's been tough, but it's not as hard — so far — as it will be in the coming days," Hunter told The Associated Press from the road. "As we add on more miles, it's going to wear on us more, but we are prepared this time."
Hunter completed a similar last June when he carried then-7-year-old Braden on his back for two days.
Cerebral palsy prevents Braden from walking on his own. They traveled last year from their hometown of Temperance to Ann Arbor.
This year's "Cerebral Palsy Swagger" started Friday at CP Swagger Shipyard, a playground they raised money for at Braden's elementary school in Lambertville.
The family said it is an awareness project, not a fundraiser.
"We want to spread the story about what we're doing and what they can do for people who have cerebral palsy," Hunter said. "These are normal people and they are just trying to live their lives, too."
The Associated Press contributed to this report