Michigan Gov. Rick Snyder reportedly weighs look at MSU's handling of sex abuse claims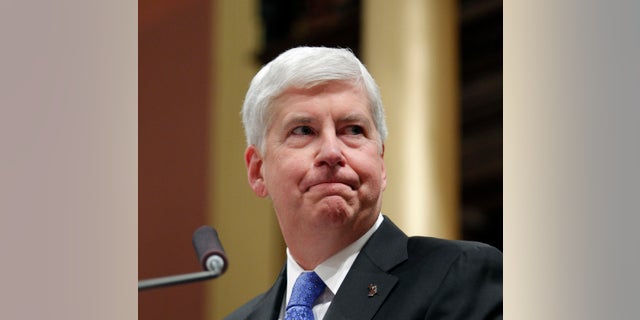 NEWYou can now listen to Fox News articles!
The governor of Michigan is debating whether to investigate Michigan State University, which has been criticized for its handling of sexual abuse reports made against former sports doctor Larry Nassar, the Associated Press reported Friday.
Gov. Rick Snyder is said to be considering a probe but is first looking into whether it would conflict with any other investigations, according to spokeswoman Anna Heaton.
Nassar, previously a trainer at the school and USA Gymnastics doctor, was sentenced Wednesday to 40 to 175 years in prison for molesting young girls and women under the guise of medical treatment.
US OLYMPIC COMMITTEE DEMANDS USA GYMNASTICS BOARD MEMBERS RESIGN IN WAKE OF NASSAR SCANDAL
His accusers -- including U.S. Olympic gymnasts Mckayla Maroney, Aly Raisman, Gabby Douglas and Simone Biles -- said he would use his ungloved hands to touch them inappropriately while they were on a table seeking help for various injuries.
Many of the victims accused the school of mishandling complaints about Nassar, some of which date back more than two decades.
State Attorney Bill Schuette is also planning to review the school's behavior.
University President Lou Anna Simon resigned Wednesday following the backlash and apologized to Nassar's victims in her resignation letter, saying she was "so sorry that a trusted, renowned physician was really such an evil, evil person who inflicted such harm under the guise of medical treatment."
MICHIGAN STATE PRESIDENT STEPS DOWN OVER LARRY NASSAR SCANDAL
MSU's athletic director, Mark Hollis, announced his retirement Friday, and former Michigan State gymnastics coach Kathie Klages resigned last year after she was suspended for defending Nassar over the years.
In Friday's meeting of the school's publicly elected board of trustees, the first since Simon's departure, members issued tearful apologies to the victims, students, faculty and others.
Under the Michigan Constitution, the governor can remove or suspend public officers for "gross neglect of duty," corruption or "other misfeasance or malfeasance."
Fox News' Samuel Chamberlain and Caleb Parke and the Associated Press contributed to this report.