Michelle Carter has 'damaged moral core,' sued by victim's family
The aunt of Michelle Carter's victim says the Massachusetts woman sentenced to prison in connection with his suicide "has a damaged moral core."
Kim Bozzi spoke out on national TV amid reports Roy's mother had filed a wrongful death suit against Carter.
Lynn Roy, mother of Conrad Roy III, is seeking $4.2 million in lost future wages for her son who was 18 when he died of carbon monoxide poisoning after locking himself in his truck in 2014.
The then-17-year-old Carter initially tried to talk Roy out of killing himself, but later urged him to do it through dozens of text messages. Roy was her boyfriend at the time.
A judge found Carter guilty of involuntary manslaughter and sentenced her Thursday to 15 months in jail. She remains free, pending an appeal.
"I don't think that she helped him kill himself," Bozzi,told ABC News' "20/20" in an interview that aired Friday. "I think she forced him to kill himself. I think she was responsible for his death."
Bozzi said she read the text about Carter telling her nephew to get back in the truck.
"My heart broke because, unfortunately, he did," she told "20/20."
She said the most unbelievable part was how Carter acted after the fact.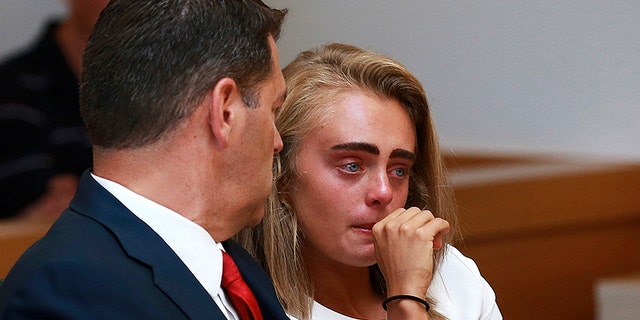 "She was there, sitting on the phone, talking to him while he was taking his last breath," Bozzi told the program.
"Then she texted my niece a couple hours later, 'Hey, do you know where your brother is?' Then she texted his mom the next day, 'Oh, hey, have you heard from Conrad?' Knowing all along," she said.
Bozzi told "20/20" she wants people to know her nephew wasn't a troubled young man or suicidal.
"He did struggle," she said. "He did have depression, he did have social anxiety, and a lot of people do. A lot of boys do. A lot of people don't like to admit it when you have that, because you think it's a sign of weakness, so you don't like to share it. But it's okay."
"Mental illness needs to be further researched and treated," she told "20/20". "As far as violence against men, I think is something that gets swept under the rug. I think women bully just as much."
Carter's lawyer argued that Roy was determined to take his own life and that Carter didn't cause his death.
The lawyer Joseph Cataldo told "20/20" Carter did feel remorse for what had happened and was a changed person, MassLive reported.
He told the news site Friday that the lawsuit brought by Roy's mother was "a massive stretch" and that the family should have taken a life insurance policy on his life if they wanted financial compensation.
The Associated Press contributed to this report.