Miami man claims on Facebook he killed wife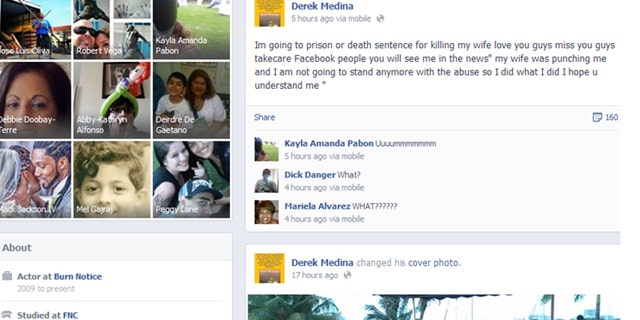 A South Miami man apparently confessed on Facebook to killing his wife and posted a graphic photo of a female body, then turned himself in to police Thursday.
The Miami Herald identified the suspect as Derek Medina, 31, who wrote on his Facebook account that he had killed his wife, Jennifer Alfonso.
WSVN said police confirmed a woman was found shot dead in the home and that a young girl, about 10 years old, was also found there unharmed and escorted out. Police said she was the victim's daughter.
The couple reportedly married in April 2012.
In his now-deleted Facebook post, Medina said, "Im going to prison or death sentence for killing my wife love you guys miss you guys takecare Facebook people you will see me in the news my wife was punching me and I am not going to stand anymore with the abuse so I did what I hope u understand me."
The Herald said a grisly photograph showed the woman with a bloody cheek and arm, her body apparently in the kitchen.
Police have not yet filed any charges.
Medina said on his Facebook page that he was an actor in the Miami-based crime drama "Burn Notice."
The Herald said he also was a self-published author and one book was titled "How I Saved Someone's Life and Marriage and Family Problems thru Communication."
Click for more from The Miami Herald.
Fox News's Serafin Gomez contributed to this report