Miami art professor turns American flags into KKK hoods causing outrage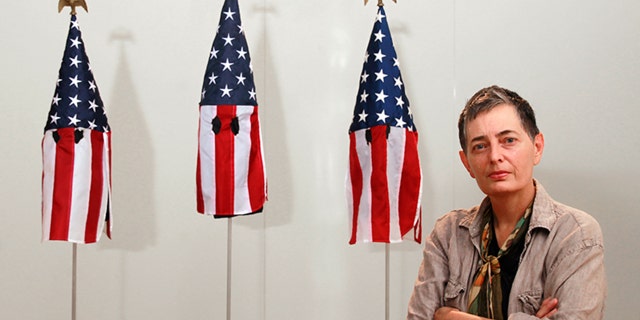 A Florida professor sparked outrage after she transformed three American flags into Ku Klux Klan hoods.
The flags shaped like KKK hoods had the eyes burnt out with nothing but darkness behind them and sat on poles with bases shaped like Nazi swastikas. The artwork is part of the University of Miami's annual faculty art show, gallery director Milly Cardoso told the Miami New Times.
Billie Grace Lynn, a University of Miami associate professor of sculpture, calls it "American Mask," a work, she writes on her personal site, that suggests "bigotry and racism are hiding behind our flag."
"This is disgusting. This is disrespectful," Patrick Young, a black employee who works in the same building as the UM art gallery, told WSVN. "I can't see it being a positive message any way you put it."
The artwork, which will be on display until Nov. 12, has angered many who say it defaces the American flag and is outright offensive.
"What can this actually help?" Young said. "Burning an American flag? I have no idea what this symbolizes, what this helps out. Who does this reach?"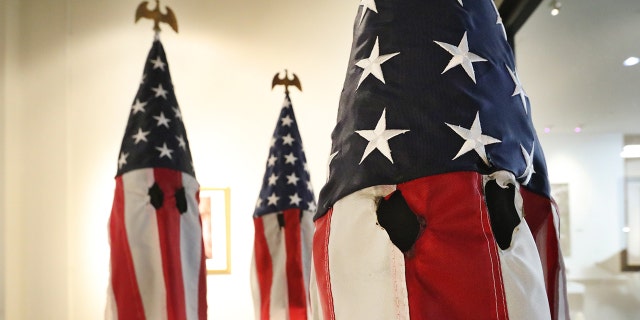 Lynn told the University of Miami News this was the intent of her piece – to strike up conversation.
She said she was talking to a construction worker who was angry about her artwork – and she was able to explain its meaning.
"I asked him what he thought it meant and he said, 'It's racist.' And I said, 'Well, it is racist, it's about racism. It's about people hiding their racism behind the flag, behind their patriotism.' Instantly all of his angry energy dissipated as he had this realization. This is what democracy is. It's messy business and it requires us to talk with each other."
The UM professor and artist said she was inspired to create the piece after watching people walking with American and Nazi flags during the protests in Charlottesville, Va.
"I just thought, that's what needs to be protested—that the American flag is positioned in between those two symbols of hatred and racism," she said. "If there was ever a time to show this work, it's now."
While the university said it supports "artistic expression and freedom of speech," UM officials acknowledge that this is an off-campus gallery that wasn't pre-approved or reviewed by the administration.
UM hopes that "conservations can happen in ways that are respectful of all points of view," UM wrote in a statement to Fox News. "The university acknowledges that this installation will provoke a range of reactions, including offense at the use of the American Flag and use of the KKK and Nazi symbols. Art exhibits that provoke reaction and conversation are not new, nor the unique province of the University of Miami."
UNIVERSITIES ISSUE GUIDES, THREATS, AND COUNSELING FOR 'OFFENSIVE' HALLOWEEN COSTUMES
Lynn told the Miami New Times she is "from Louisiana, and the Klan is really strong there. I am from the place where these people live. I am these people in some way."
She finds her artwork offensive and hopes to "awaken citizens to the danger of confusing bigotry with patriotism."
As a former Girl Scout, who was taught never to let the American flag touch the ground, Lynn told the university publication it wasn't easy for her to create the artwork.
"It was very painful for me to cut the flag to make it into that shape. But I think that's what's happening, the country is in pain," she told UM News, adding, "I don't want the American flag to be taken as a symbol for white supremacy, and I think that is what's happening and that's a dark path to go down."