Mexican man charged trying to smuggle nearly $700G out of US
NEWYou can now listen to Fox News articles!
A Mexican man was arrested at an international bridge in El Paso, Texas, Sunday night after trying to cross the border with $689,506.
The man was traveling from El Paso to Juarez when Customs and Border Protection agents asked if he had any money, weapons, or ammunition to declare. The 28-year-old said he didn't and agents decided to give his car an extra inspection. During the inspection, agents found the bundles of money in a speaker box.
"The currency was found in a large speaker that was operable. It's easy to let it go because we are used to seeing these large speakers. In this case the officer was vigilant, talked to him a little longer, decided it was time to send it into secondary (inspection) and that's how it was found," said Ruben Jauregui, Chief Customs and Border Patrol Officer in the El Paso Field Office.
The driver was arrested and handed over to Homeland Security Investigations and faces charges associated with smuggling.
There is no limit to how much money travelers can bring back and forth across the border, but they have to declare amounts larger than $10,000. Travelers from El Paso are not allowed to bring weapons into Mexico.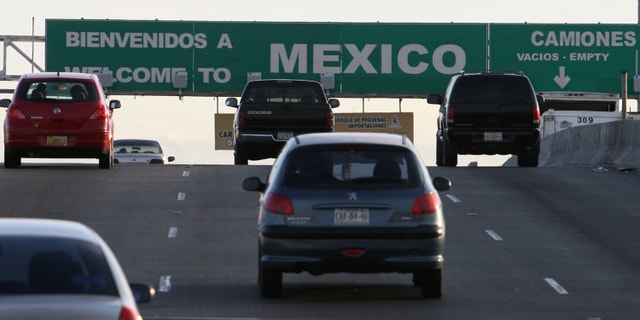 Jauregui said a lot of the money that people try to smuggle out is the profit from narcotics drug cartels smuggle in. He added, it's important to make these seizures because it disrupts the cartels ability to do business.
FAMILIES OF IRAQI CHRISTIANS ARRESTED BY ICE SAY THEY'RE BETRAYED
"That's money they can't use to buy guns, to buy more narcotics," said Jauregui. "It creates the crime wave whether it's in Mexico or here in the U.S."
He cautions, however, some of the people who don't declare are business owners or individuals who bring money back and forth and legitimately might not know they have to declare.
BORDER PATROL RAIDS ARIZONA DESERT CAMP
"Travelers who do not follow federal currency reporting requirements run the risk of losing their currency and may potentially face criminal charges," U.S. Customs and Border Protection El Paso Port Director Beverly Good said in a statement.
When agents search cars they pull out speaker boxes, vents, check for false compartments, check luggage, and often have a dog sniff the car.
Agents look at all cars crossing the border but only inspect suspicious cars and drivers going into Mexico. They conduct thorough investigations of all cars traveling across the border.