Mexican judge unfreezes assets of ex-MLS soccer star linked to drug kingpin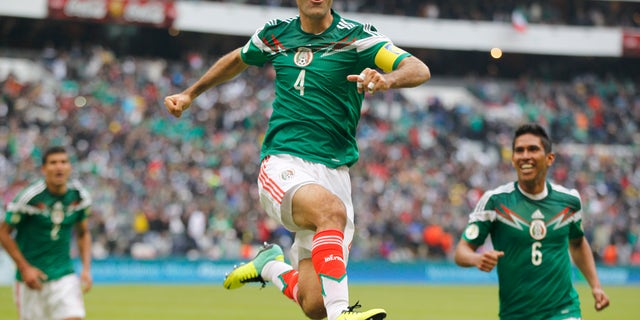 NEWYou can now listen to Fox News articles!
A Mexican judge has ordered that bank accounts belonging to a former Major League Soccer player be unfrozen, after the accounts were suspended last month as part of a U.S. crackdown on Mexican drug cartels.
The bank accounts belong to Rafael "Rafa" Marquez, a Mexican soccer legend whom U.S. authorities last month linked to drug trafficker Raul Flores Hernandez.
But Marquez has denied having any connection to Flores Hernandez or any other drug traffickers.
Marquez played for the New York Red Bulls from 2010 to 2012, and has also played in Mexico and for clubs such as FC Barcelona in Europe.
Mexico's federal Judge Luz Maria Ortega issued the provisional order to unfreeze the soccer star's bank accounts, Reuters reported. The court document did not name Ortega in order to protect the judge from retaliation, but her name was eventually revealed by local media.
The judge did not say why Marquez's accounts should be unfrozen, noting only that the court order applies to two accounts – a third account is pending review.
Marquez saw his accounts frozen last month after the U.S. government sanctioned him – together with more than 20 other Mexican citizens – for alleged financial links to Flores Hernandez.
U.S. officials said Marquez had a longstanding relationship with the drug trafficker, acting "as [a] front [person] for him and his [drug trafficking organization] and held assets on their behalf."
The move to sanction multiple Mexican citizens followed President Donald Trump's pledges on the campaign trial and in office to crush Mexico's drug cartels.
The U.S. Treasury Department hailed the designation last month as "the largest single Kingpin Act action against a Mexican drug cartel network that OFAC (the Office of Foreign Assets Control) has designated."
The Associated Press contributed to this report.