Mexican folk religion involving human sacrifice gaining status among criminals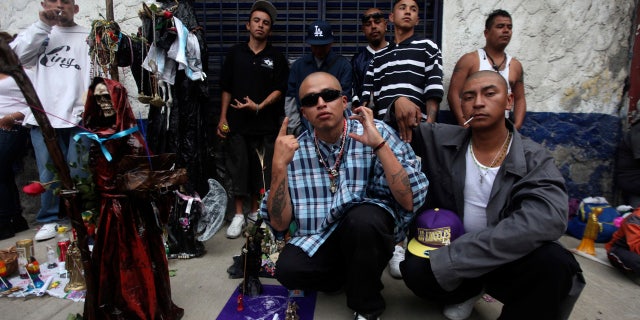 NEWYou can now listen to Fox News articles!
A Mexican folk religion involving human sacrifice and devoted to "Holy Death" is growing in popularity among drug traffickers and violent criminals, prompting Texas officials and the Catholic Church to warn about honoring the so-called "Saint Death."
Authorities are speaking out about the religion devoted to La Santa Muerte, which translates to "Holy Death" and "Saint Death," that has gained popularity steadily since the late 1980s among Mexican-American Catholics.
"She's not a saint. There is nothing good that can come out of praying to her," Sante Fe Archbiship John Wester said in February. "We have a lot of saints who represent the teaching of Jesus Christ. This is an aberration."
Clad in a black nun's robe and holding a scythe in one hand, Santa Muerte appeals to people seeking all manner of otherworldly help, from fending off wrongdoing and carrying out vengeance to people seeking protection for their drug shipments against law enforcement.
Devotees often use Catholic prayers and set up shrines in "her" honor.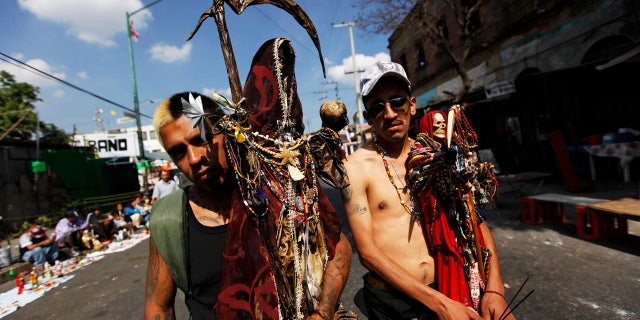 The Catholic Church in Mexico and the U.S. denounces the skeleton "saint," and warns that worship is spiritually dangerous. In February, Wester, El Paso Bishop Mark Seitz and San Angelo Bishop Michael Sis in Texas joined their counterparts in Mexico in urging Catholics to avoid honoring the folk saint and called her "antithetical" to the teachings of Jesus Christ.
Law enforcement officials in Austin, Texas told KVUE the religion has become prominent among drug traffickers and violent criminals.
"We're seeing more and more criminals that are praying to Santa Muerte," Robert Almonte, a former narcotics detective, told the television station.
Almonte, who now gives seminars across the country educating law enforcement on the signs of the folk religion, said officers are now "encountering elaborate Santa Muerte shrines" when entering homes on drug search warrants.
Austin police told KVUE they haven't seen any ritualistic killings in the area, but in two separate incidents the names of a judge and probation officer were found written on a piece of paper.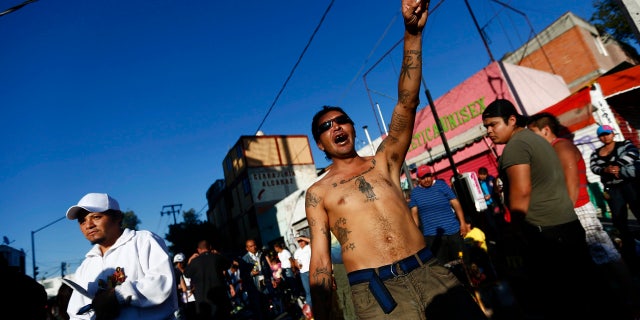 "Their hope is to actually have the officer or detective or what not - something bad happen to them and they might be able to go free from their cases," an undercover officer told KVUE.
A 2008 kidnapping by Gulf Cartel members of rival members in the Sinaloa Cartel featured executions in public Santa Muerte shrines, according to a 2014 FBI law enforcement bulletin.
And a massacre earlier this month of more than two dozen prisoners in a Mexican prison may be tied to a ritual of Santa Muerte, the Catholic News Agency reported.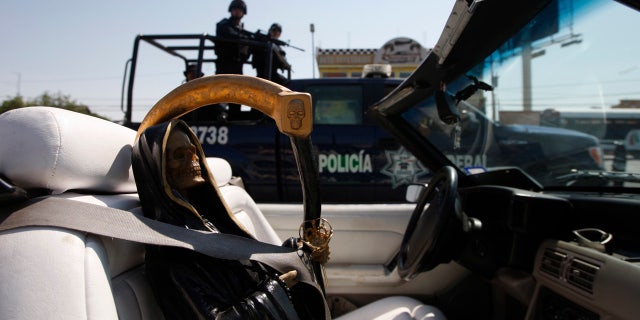 The killings of 28 prisoners at the Las Cruces jail in Acapulco included executions "in the middle of a ritual to Santa Muerte" led by drug traffickers, according to documents obtained by the Mexican newspaper Reforma.
State authorities refused to comment on the ritual aspect of the massacre, but Roberto Alvarez Heredia, security spokesman for Guerrero state, said in the statement the killings began because of "constant dispute between rival groups inside the prison."
The Associated Press contributed to this report.