Mexican-Americans have eyes set on Mexico's largest election in history
PHOENIX – Mexican-Americans in the U.S. say the presidential election in Mexico could have a major impact on illegal immigration.
Carmen Iveth Perez Noyola, a U.S.-Mexico dual citizen who has already mailed in her ballot in the race, believes the new president could improve conditions so much in Mexico that the number of people leaving the country could decrease.
"A lot of people, if they had better opportunities back in Mexico, we would not be coming here," Noyola said. "A lot of us did come here because of need. So, if we had our rights respected back in Mexico, if we had security, jobs, we wouldn't have to come and risk our lives."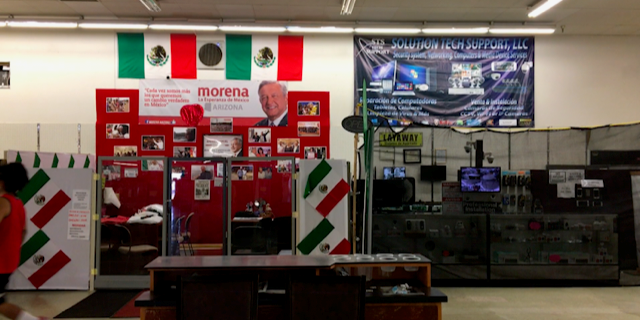 The largest election in Mexico's history will be taking place on Sunday and voters eligible to cast their ballots in the U.S. and abroad are paying close attention. It's an election during a time when illegal immigration has become a hot and controversial topic.
"It's important not only for our families back in Mexico but also here—the United States and Mexico, we're neighbors," Noyola said. "Whatever happens to one or the other, affects Mexico and the U.S."
In total, there are over 181,256 Mexicans living abroad that have both registered and activated their voter ID cards allowing them to be able to vote in this election. Along with a new president, there are 128 senate seats, 500 deputy seats, eight governor seats, 1,596 municipal council seats, and the mayor of Mexico City office up for election. Voters abroad can only vote for president.
The leading Mexico presidential candidate is left-wing Andres Manuel Lopez Obrador, otherwise known as AMLO. Obrador has been critical of Trump's proposed border wall – but he's focused his campaign on local corruption rather than U.S. policy and insists he needs to maintain good relations with the U.S.
In a visit to the U.S. last year, he decried how Mexicans were treated in the U.S.
"We have already done a petition against the (executive) orders issued by President Donald Trump…with the purpose of constructing a wall on the border and, what we consider to be more grave, the persecution of migrants in this country," Obrador said while in D.C. last March.
Obrador is considered the most protectionist amongst the other candidates, as there is widespread agreement among them of the benefits of the North American Free Trade agreement. They want all the current negotiations to lead to a new version of the pact.
During a debate in May, all the Mexico presidential candidates said they wanted a positive relationship with the U.S. and that they would demand respect from President Trump.
But while the immigration debate has become particularly heated in the U.S., particularly after the separation of families issue, the campaigns have all focused on issues closer to home, like local political corruption.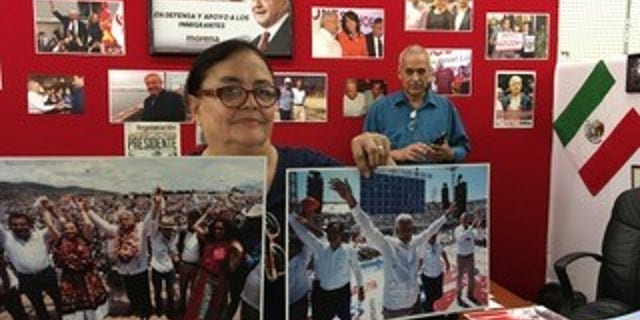 Political experts said that while the immigration debate has fired up the electorate, voters are more likely to cast their ballot for a candidate who they feel can stabilize the shaky Mexican economy.
"The anti-Mexico sentiment from the U.S. has galvanized some people—it's more nationalistic and people are like, 'We have our dignity, we have our respect—Mexico's a sovereign country and no we're not going to pay for the wall,'" said Irasema Coronado, a political science professor at the University of Texas at El Paso. "Those are the comments that I've heard from some people but, at the end of the day, people are going to vote their own economic self-interest. Mexico still has a lot of poverty…about 20 million people live in abject poverty, which is extreme poverty – like a dollar a day."
Mexico's poverty rate in 2016 was 43.6 percent. In 2017, Mexicans abroad sent a record $28.8 billion back to Mexico.
In Phoenix, there is a makeshift booth set up in a Latino central market that functions as an information booth for Mexican voters wanting to mail-in their ballots.
"I believe that if we don't have a change right now, Mexico is just going to go more downhill—it's going to be worse," Noyola said. "There are a lot of people getting killed, disappearing –we are losing a lot of our natural resources to foreigners, while there's people in Mexico who don't even have running water or their basic needs met. There's a lot of crime, insecurity, a lack of jobs, and education. So, right now is the time."
The Phoenix voting informational booth is also a hub that supports and promotes Obrador.
"We feel like Andres Manuel Lopez Obrador—he generally wants that for all Mexican people (to have a chance to be a better country after rhetoric against Mexico). He wants a change," Noyola said. "He wants people to be safe and end corruption. That's the truth and so if Mexico is OK, the U.S. will be fine, as well."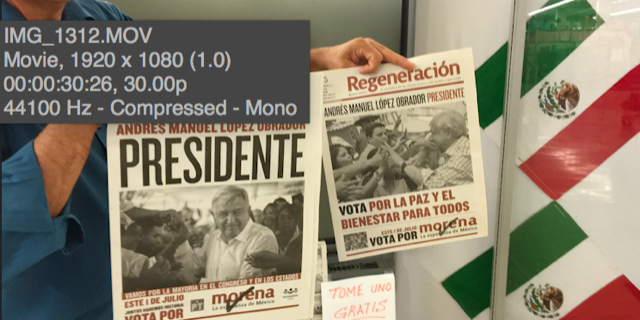 The other presidential candidates are: Ricardo Anaya Cortes, running with the Partido Accion Nacional party; Jose Antonio Meade Kuribrena, running with the Partido Revolucionario Institucional party, and independent Jaime Rodriguez Calderon. Obrador is running with the Movimiento Regeneración Nacional party.
Organizers are encouraging any Mexican who still haven't voted to drive across the border to vote in person on Election Day.