Methane gas leak plaguing Los Angeles neighborhood could be capped next week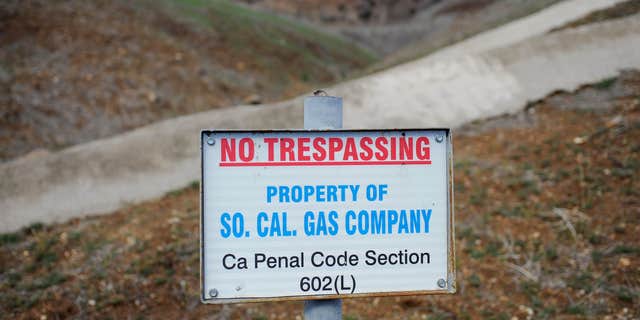 NEWYou can now listen to Fox News articles!
LOS ANGELES – A California official outlined a plan Thursday to cap the massive Los Angeles-area gas leak by the end of next week.
Wade Crowfoot, an adviser to Gov. Jerry Brown, told residents of Porter Ranch that the final phase to intercept the ruptured well should start Monday. It is then expected to take another five days to permanently seal the Southern California Gas Co. well that began leaking in October.
The announcement at a public meeting is ahead of the company's worst-case prediction that it would be plugged by the end of the month. The well has been leaking for 15 weeks.
The blowout at the largest natural gas-storage facility in the West has uprooted thousands of residents and spewed more than 2 million tons of climate-changing methane.
Residents have complained of headaches, nausea, nosebleeds and other symptoms. Public health officials blame the woes on an odorant added to the gas and said there shouldn't be long-term health problems.
SoCalGas said it paid $50 million to try to cap the leak and relocate people through December, but it hasn't given an update since on the costs. The number of relocated families has since soared to 4,400 residents, and the company is facing more than two dozen lawsuits from residents and several public agencies.
The company was charged this week by the Los Angeles district attorney with misdemeanor criminal charges for failing to let state emergency officials know about the leak for three days after it was detected Oct. 23.
Several state agencies have ordered the company to plug the leak and are investigating its cause