'Merchant of Death' Viktor Bout Will Never Be Extradited to U.S., Expert Says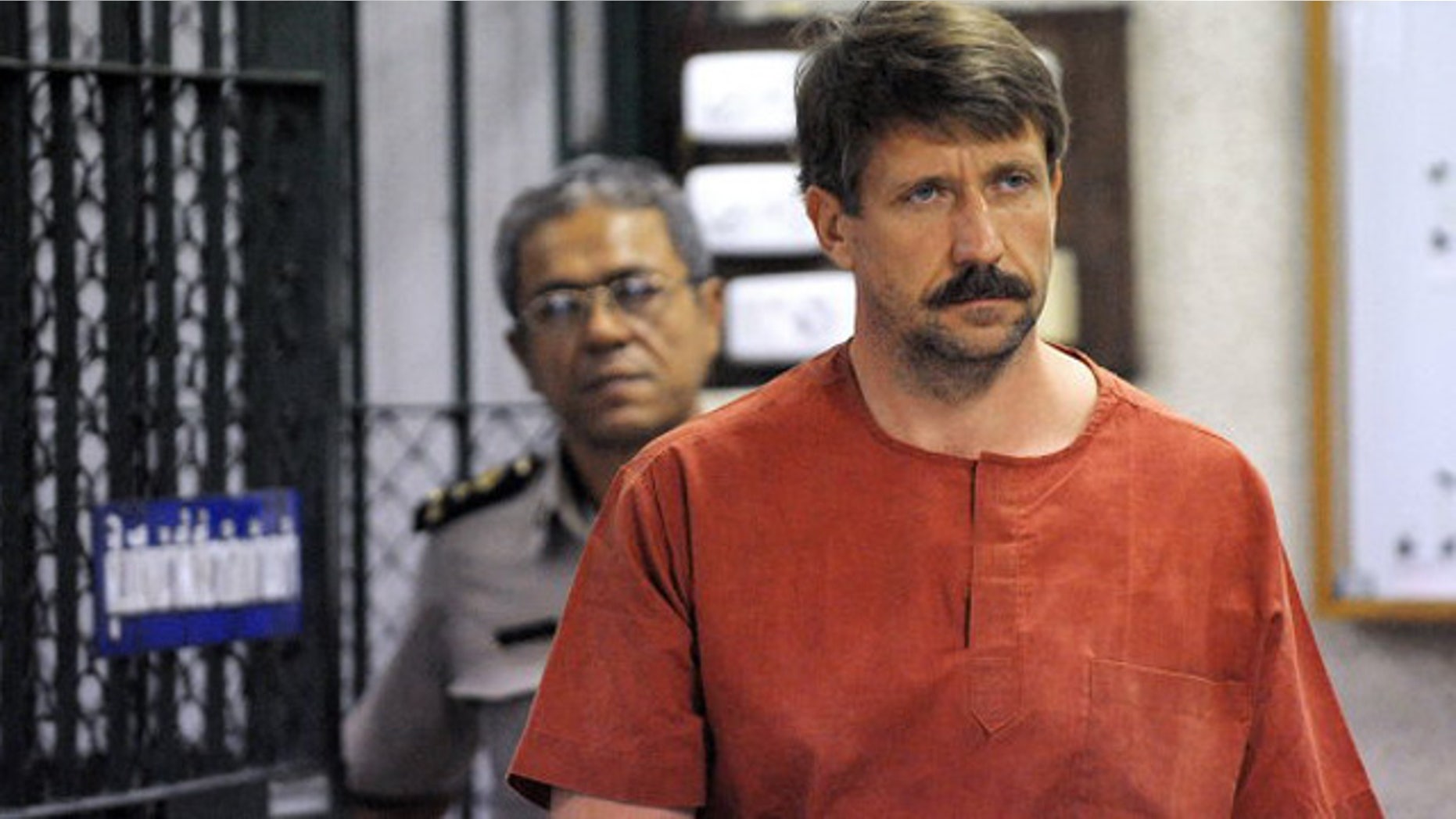 EXCLUSIVE: When an appeals court in Thailand ruled late last month that Viktor Bout, the alleged illegal arms dealer dubbed the "Merchant of Death," could be extradited to the United States to face charges, American diplomats and intelligence officers popped open the champagne.
They hadn't expected to win the last great spy battle of the Cold War, which pitted Russians looking to keep Bout's secrets away from the Americans against the Americans who are seeking to shut down the vast illegal arms network he allegedly created and force him to reveal some of the Kremlin's darkest secrets.
But the celebration was premature, says Robert Amsterdam, an attorney deeply involved in both Russian and Thai politics. The extradition, he says, simply "isn't going to happen."
Bout is accused by the Department of Justice of conspiring to provide material support or resources to a terrorist organization, conspiring to kill Americans, conspiring to kill U.S. officers or employees and conspiring to acquire and use an anti-aircraft missiles, as well as other charges. He'll have his day in an American court -- if the U.S. finally succeeds in getting him there.
But Amsterdam says two elements virtually guarantee that the two-year battle to bring Bout to America will fail.
One is Bout's close connection to Igor Sechin, the Russian deputy prime minister who is widely regarded as the third most powerful man in the Kremlin, and who is a close ally of Prime Minister Vladimir Putin, The other is the corruption that is rampant in Thailand.
"The stakes are too big to have him extradited," Amsterdam says.
The U.S. and Russia have been angling to control Bout's fate since an American "sting" operation led to his arrest two years ago in Thailand's capital, Bangkok. In tapes made during a meeting with Drug Enforcement Agents posing as members of members of FARC, a Colombian guerrilla group, Bout allegedly promised to supply them with advanced surface-to-air missiles.
The fact that Bout could get his hands on those missiles convinced American intelligence officials that the deal was sanctioned by the Russian government, that Bout worked for Russian intelligence operations and that the deal was payback for America's sale of Stinger missiles to Afghanistan that forced  their withdrawal in 1989. As the Moscow Times pointed out, those weapons are so devastating that it took only 200 Stingers to end the Soviet occupation of Afghanistan.
Since then, the stakes have been huge. Russia has made Bout's release a keystone of its foreign policy -- Vladimir Kozin of the Russian Foreign Ministry has warned American officials that the "reset' of Russian-American relations won't happen if Bout is sent to America.
The Russians also have tied the outcome of the case to their promises to send cheap oil and fighter jets to Thailand. In Russia, Bout has become a regular topic on TV, where he is depicted as a modern folk hero unjustly held by Russia's old Cold War enemy.And tomorrow Bout's wife will hold a press conference in Moscow claiming her husband is innocent and asking the Russian government to intervene directly in the case.
The U.S., meanwhile, has played a similar game, matching Russia's arms offers and pressuring the Thai government to make sure Bout's extradition is approved.
According to California Rep. Ed Royce, ranking member of the House Foreign Affairs Subcommittee on Terrorism, Bout has funneled weapons to wars on three continents -- but it was the discovery of one of his planes delivering weapons to Al-Shabab, an Al Qaeda-linked terror group in Somalia, that makes his capture and prosecution critically important. Al-Shabab is seen as one the most dangerous terror groups in the world.
"His operation is still running, and if we can learn its details and shut it down it will eliminate an important source of weapons for terrorists," Royce said.
The Russians won the first round in their tug of war with the U.S. for Bout in August 2009, when a Thai lower court ordered Bout's extradition halted. But as the deadline neared for a decision from Thailand's Court of Appeals, American and Canadian diplomats mounted a broad effort to corner Thai diplomats around the world and impress upon them just what was at stake. According to American defense analysts, the Thai ambassador was called in for a special meeting in Washington that had only one topic -- Bout -- and the final sale of helicopters to the Thai military was hastily approved.
As the Russians and the Americans squared off, Thai politicians also intervened. A Thai newspaper reported that a high ranking Thai official visited Bout days before the court's decision and promised the case would go his way if he accused Thailand's former prime minister, Thaksin Shinawatra, of arms smuggling. The official admitted he met with Bout in prison, but he denied trying to make a deal. The government is locked in a struggle with Shinawatra, whose supporters staged protests in the streets in March that left 88 dead.
No one is sure what influenced the appeals court's decision to allow the extradition, but the success of the U.S. effort — the ruling cannot be challenged further -- was met with a dire and surprising warning from Russian Foreign Minister Serge Lavrov. He quickly announced that Russia would do "everything necessary to push for Bout's return to the homeland," and he charged that the case was "political and unlawful."
"The decision won't stop the Russian efforts to get him back,' said Jeff Abramson, deputy director of the Arms Control Association, a nonpartisan Washington-based group that studies arms proliferation around the world. "They will find a way to continue to let him go."
Beyond the scope of Bolt's operations, American intelligence is eager to know just how available surface to air missiles are; the involvement of Bulgaria, an European Union member, in illicit arms sales; and the techniques Bolt used to circumvent restrictions of arms sales, says Matt Schroeder, a senior analyst with the Federation of American Scientists.
But Amsterdam and intelligence sources say it is Bout's connection to Sechin that ensures that the case is far from over -- and that Bout ultimately may never be sent to the United States. Sechin, they say, has quietly led the old guard Kremlin faction whose base was the military and security services that was overshadowed by President Demitri Medvedev's faction in the energy sector during the economic boom years. Now, they say, the man once called the "Richelieu of the Kremlin" is emerging from the shadows, challenging Medvedev's influence and becoming a likely contender to become Putin's heir. He is not about to show weakness or let Bout, his friend, down.
According to a recent report by Stratfor, a private American intelligence analysis company, both Bout and Sechin have a long history together. Both studied Portuguese early in their careers, served as intelligence officers in Angola and Mozambique during the civil wars there in the 1980s, and it is widely believed that Sechin protected Bout's operations and allowed him access to stockpiled Russian weapons.
"He is not about to let the man who knows his secrets fall into American hands," Amsterdam said.