Mercedes' apology for use of Che Guevara photo to promote luxury cars does little to quiet outcry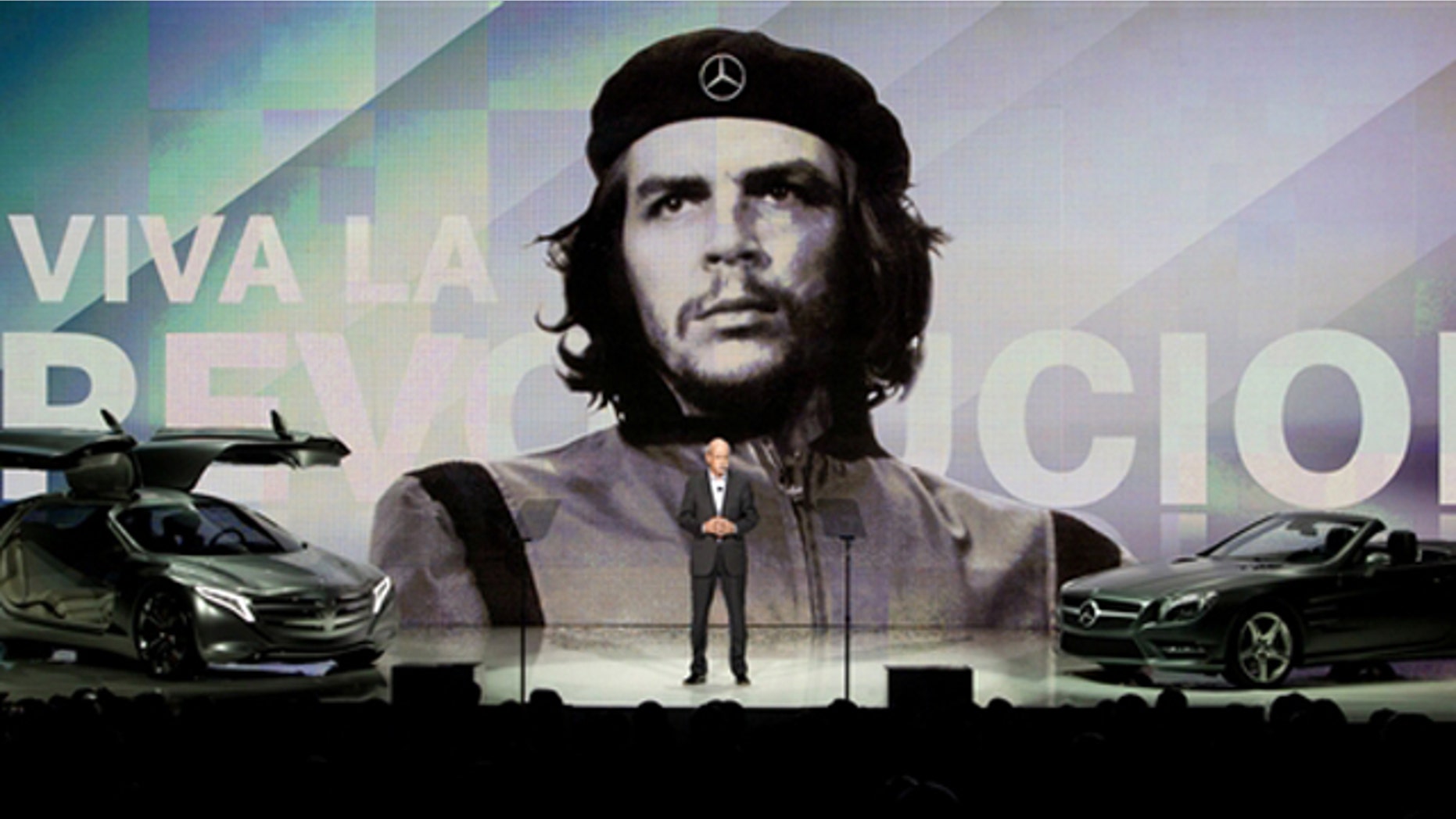 Daimler AG, the German company that manufactures Mercedes-Benz luxury cars, called its promotional use of an image of Marxist revolutionary Ernesto "Che" Guevara a "thoughtless" and "stupid" decision that was not intended to offend people.
But that has done little to quiet prominent figures within the Cuban American community, including two U.S. lawmakers, who described Guevara as a "sadistic serial killer" who murdered thousands of men, women and children.
The image of Guevara -- the Argentine revolutionary who helped bring Fidel Castro to power -- appeared briefly Tuesday during a promotional presentation for Mercedes-Benz at the International Consumer Electronics Show in Las Vegas. Guevara played a critical role in the 1959 overthrow of U.S.-backed Cuban dictator Fulgencio Batista, the culmination of a two-year guerilla campaign during which Guevara allegedly ordered executions of Batista loyalists as well as Castro deserters and accused spies.
Daimler has since apologized for using Guevara's image, but many Cuban Americans living in South Florida and other cities say they are not satisfied with the auto manufacturer's explanation.
"It's a pathetic apology," Florida Rep. Mario Diaz-Balart, a Republican, said in an interview with FoxNews.com. "He [Guevara] was a cold-blooded killing machine" who "talked about using an atomic bomb to kill all capitalists."
In a statement sent to FoxNews.com, Daimler said it "was not condoning the life or actions of this historical figure or the political philosophy he espoused."
"In his keynote speech at CES, Dr. Zetsche addressed the revolution in automobility enabled by new technologies, in particular those associated with connectivity. To illustrate this point, the company briefly used a photo of revolutionary Che Guevara (it was one of many images and videos in the presentation) …We sincerely apologize to those who took offense," the statement said.
When further pressed on the matter, Daimler spokesman Han Tjan said the image appeared for "only a few seconds" during the 45-minute "Power Point" presentation.
"It was very thoughtless not to realize that by doing that, it would offend a large number of people," Tjan said.
"Unfortunately, the word 'revolutionary' triggered a picture of Che Guevara … which may indicate the age of the person who did it," he said. "That fell between the cracks … It was absolutely stupid that somebody did it."
Diaz-Balart is not the only U.S. lawmaker to denounce the image.
Florida Rep. Ileana Ros-Lehtinen said the company "should be ashamed of themselves for using the image of a cold blooded murderer in one of their publicity campaigns."
"Obviously the creators of this ad have the wrong image of Che Guevara," Ros-Lehtinen said in an email to FoxNews.com. "El Che was a corrupt, bloodthirsty coward who killed countless innocent Cubans at the beginning of the Castro regime. Reports from people who knew him recount tales of an especially brutal person who would not think twice about killing a father in front of his son or ignoring the pleas of a mother to not send her son before the firing squad.
"That was the true Che Guevara, the odious gangster unleashed against the Cuban people by the just as odious Castro brothers," she said. "I am glad that they have done the right thing and apologized for it."
Others, like Cuban American columnist Miguel Perez, likened Guevara to infamous figures like Adolf Hitler and Usama bin Laden.
"In Latin America, the people who love Guevara are usually the same people who hate the United States," Perez said. "But in this county, most of the people wearing his image on their shirts don't even know who he was. Young people think it's a fashion statement, when in fact it's extremely offensive."
"To us, it's the equivalent to how Jewish Americans would feel if they saw someone wearing the image of Hitler," he said. "He had hundreds of people killed by Castro's firing squad. And he would force people to watch executions."