Men pull woman from vehicle sinking in Montana flood waters
NEWYou can now listen to Fox News articles!
Two passing motorists are being hailed as heroes after they saved a woman from floodwaters in Montana on Tuesday in a dramatic rescue caught on video.
The incident happened on U.S. Highway 2 in northern Montana, which is experiencing flooding as snowfall from the winter melts away in warming spring temperatures.
The rescue was captured in a video posted to Facebook by Matt McCollam, whose brother Seth swam into the frigid, rushing water to retrieve driver April Seubert from the roof of her sport-utility vehicle.
"As we slowly started to drive through it we noticed a car about 40 yards off the highway that appeared at first glance had been left after someone had driven into the water," McCollam wrote. "As we got closer we could see it was sinking, we said we have to see if someone is in that car. I shut off the diesel and there was a woman screaming for help from the car."
With temperatures in the 20's, McCollam said his brother jumped in "without hesitation."
"Seth jumps into the water and swims to the car and brings the lady back to the truck, by this time the car was almost completely submerged, he got her into the truck and gave her a blanket to warm up, we drove her up the highway and left her safely with her husband," he wrote.
Seubert told the Associated Press in a phone interview she didn't see three signs warning of water on the roadway, and was going about 60 mph when her vehicle hit a patch of water and she spun off the roadway.
"Having him grab me was just a miracle," she said, adding that she was also cited for reckless driving.
DEAF, PARTIALLY BLIND DOG HELPS RESCUE LOST GIRL, 3, IN BUSHLAND OF AUSTRALIA
Montana Highway Patrol Trooper Michael Jensen said the hazardous parts of the roadway were clearly marked by signs, and there have been no other instances of cars sliding off the highway since the spring flooding began.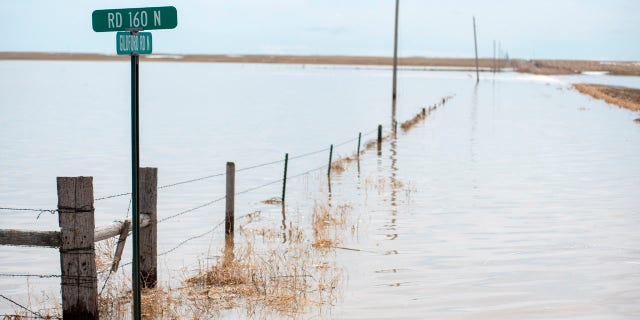 Jensen said that stretch of the highway does not get a lot of traffic, and that Seubert was lucky the brothers came along when they did.
"That was amazing what he did to help that lady," Jensen told the AP. "If he hadn't come along, it probably would have been a whole different story."
The Associated Press contributed to this report.