Men freed on bail after 24 years in prison in deadly robbery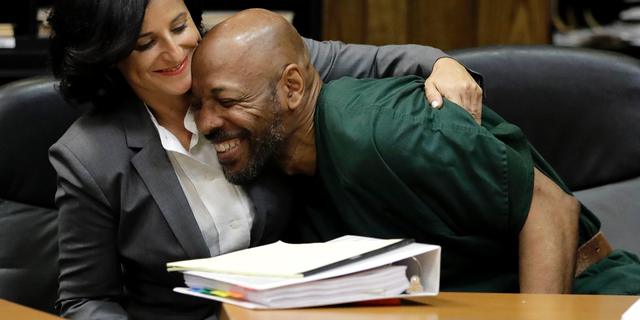 NEW YORK – Two men imprisoned for nearly a quarter-century in the killing of a New Jersey video store clerk were freed on bail Wednesday to await new trials after new tests found someone else's DNA on a key piece of evidence.
"I feel great," Eric Kelley said by phone as he dined with family after he and Ralph Lee walked out of the Passaic County Jail, free for the first time since 1993.
After years of unsuccessful appeals, "finally, it's here now — I'm a free man," Kelley said.
A judge granted Kelley and Lee new trials in September, but they had remained behind bars amid legal arguments over their bail, which was eventually reduced from $1 million to $20,000 apiece. Their release came after the New Jersey Supreme Court turned down prosecutors' appeal of the bail decision. Prosecutors also are appealing the decision granting the two new trials, and that appeal has not been decided.
Still, Kelley's lawyer, Vanessa Potkin of the Innocence Project, called the men's release "a huge step toward vindication."
"I'm an innocent man" Lee said simply as he left jail with lawyer Paul Casteleiro of Centurion Ministries, according to NJ Advance Media.
The Passaic County Prosecutor's Office did not immediately respond to a request for comment Wednesday.
Lee, 55, and Kelley, 53, were convicted of murder in a bloody knifepoint robbery that left Tito Merino dead on the floor of his uncle's video store in Paterson. Merino, 22, a Peruvian immigrant, was a community college student and aspiring doctor.
Kelley and Lee confessed but soon recanted. There was no physical evidence against the two; the case hinged on their admissions and testimony from witnesses who had been in the video store around the time of the killing.
In 2014, DNA tests showed that a baseball cap found near Merino's body was laden with DNA from someone else: a man convicted of a 1989 knifepoint holdup at a different Paterson shop. He had been released from prison three months before the video store robbery.
That man has not been charged in the video store killing.
Neither Kelley's nor Lee's DNA was found on the green-and-purple plaid hat, though Kelley had told police that he wore it during the stickup, while a witness had said Lee was wearing the hat in the shop shortly before the robbery.
Lawyers for Kelley and Lee said the DNA findings proved their clients' innocence and implicated the other man. Prosecutors said the new DNA match did not exonerate Kelley and Lee, incriminate the other man or outweigh the confessions and witness testimony.
A Passaic County Superior Court judge concluded in September that the DNA match could raise reasonable doubt about whether Kelley and Lee were guilty, and that it merited a new trial.