Mega Millions pools big losers after jackpot winner announced
While someone in South Carolina who bought the winning ticket for the Mega Millions jackpot of $1.537 billion is about to be a whole lot wealthier, those who pooled together money in hopes of winning may be the biggest losers.
The ticket sold Tuesday had the winning numbers 5, 28, 62, 65, 70 and Mega Ball 5 worth about $877.8 million in a lump-sum cash payment. The person who won the second-largest jackpot in the nation may never be known since South Carolina is one of eight states where winners can remain anonymous.
"Our board has a policy to protect the winner because of all the risk associated with having that much money," William Hogan Brown, executive director of the South Carolina Education Lottery, told ABC's Good Morning America.
But while the winner may be silently enjoying the newfound fortune, those who dropped money in the frenzy before the big drawing are in the red.
MEGA MILLIONS $1.6 BILLION WINNING TICKET SOLD, LOTTERY OFFICIALS SAY
In Florida, a group of nearly 90 friends dropped $20,000 on Mega Millions tickets for Tuesday's drawing. Ryan McGuinness, who organized the pool and bought 11,000 of the $2 tickets, told the Tampa Bay Times the group has collectively spent $52,000 on tickets and rolled over $1,224 in winnings.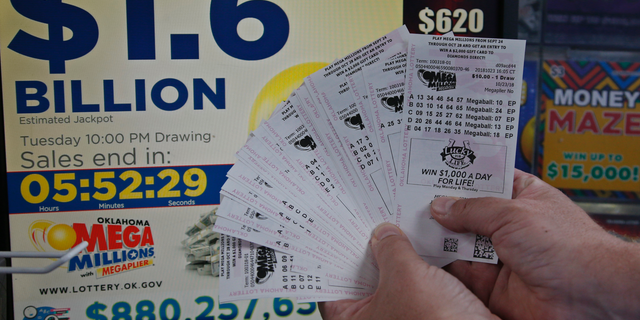 The group initially formed after pooling its money together two years ago for a Powerball jackpot.
"Obviously, the money diminished down to zero, but it was entertaining," McGuinness told the newspaper. "Everybody is back in."
In Texas, Theresa Creevy organized a pool with nearly 400 moms involved in a Facebook group to drop over $8,000 on Mega Millions tickets. If the group had won and taken the cash option, members would have each gotten about $1.4 million.
"I hope these tickets will help lots of mommies," Creevy told NBC5. "And for 20 bucks, it's not a bad gamble. Not a bad gamble!"
A New Jersey woman put her faith in a lottery pool with potential strangers after posting in a Facebook group. Diana Dine-Matos told CBS New York she had at least 45 people sign up who sent money to her Venmo account, allowing her to buy 225 tickets.
"I was just sitting on the couch and thinking about what can we do differently and it just kind of popped into my head," she told CBS2.
When asked if she was worried someone would take the money and run, Dine-Matos told the television station she wasn't concerned.
"Well, I think they now definitely know where I live, so they know where to find me now," she said.
The Mega Millions jackpot on Tuesday grew so large because it had been nearly three months since a player had matched all six numbers and won the top prize. The last time that happened was July 24, when 11 co-workers from California won a $543 million prize.
While most attention has been on the Mega Millions game, Powerball also has been soaring. The estimated prize for Powerball's annuity option in Wednesday night's drawing is $620 million, with a cash prize of $354.3 million.
The Associated Press contributed to this report.