Media Matters writer 'sorry' after blasting Drudge for Martin photo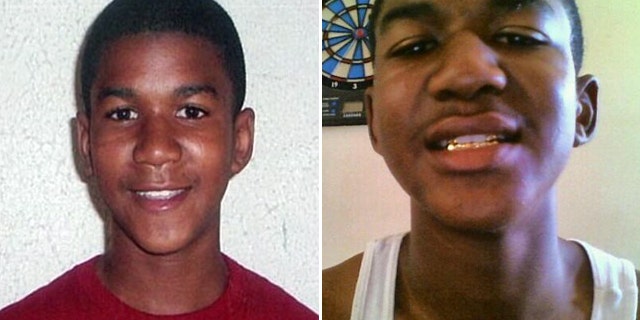 A senior analyst with the liberal activist group Media Matters tweeted an apology on Tuesday after calling journalist Matt Drudge a racist and accusing him of using a phony photo of Trayvon Martin.
"Racist demagogue Drudge continues to run photo of some kid, not Trayvon for incitement purposes," MJ Rosenberg initially tweeted at 10:56 a.m. ET, after drudgereport.com and other media sites posted a photo of Martin sporting a tank top, looking noticeably older and bigger than he appears in a photograph widely carried by media outlets that have reported on the story.
Rosenberg followed that posting by retweeting a message saying, "Matt Drudge has done more to debase American news coverage than anyone in history of country."
But he was tweeting a different tune at 1:03 p.m., when he wrote, "Mixed up Drudge photo of Trayvon w Michelle Malkin's. Malkin's is an admitted fake. Drudge? Don't know. Sorry." That tweet was immediately followed by another saying, "Malkin apologized for fake #Trayvon photo. I apologize for mixing up her photo with one Drudge used."
Malkin's site, twitchy.com, ran a photo it said was Martin shirtless and giving two middle fingers to the camera and said it was a photo the mainstream media was refusing to show. But it was not the same photo Rosenberg objected to on Drudge, so it was unclear how he confused the two. Malkin's apology was also more unequivocal than Rosenberg's.
"We made a mistake," the site said in a post that later ran beneath the photo. "The photo on the right is not of the Trayvon Martin who was shot by Zimmerman. We apologize to our readers and to the Martin family."
The new picture generated interest because it seemed at odds with the much-circulated photo of an apparently younger Martin, the 17-year-old shot by George Zimmerman, a neighborhood watch captain in Sanford, Fla., on Feb. 26. It was the earlier photo that prompted President Obama to say last week that if he had a son, he "would look like Trayvon."
The newer picture of the older Martin was reportedly taken from his Twitter page, and has been reposted on various websites for at least several days. The photo used on Drudge Tuesday linked to a story on The Daily Caller, which published what it called Martin's Twitterfeed.
Martin family lawyers did not return calls requesting they verify the authenticity of the second photo. Rosenberg did not return calls to FoxNews.com for comment.
A spokeswoman for Media Matters, a non-profit organization that professes to correct what it considers conservative bias in the media, declined to comment. But the spokeswoman noted Rosenberg's Twitter feed does not necessarily reflect his employer's views.
The Daily Caller told FoxNews.com it stood by the Twitter page it excerpted, which had the second image of Trayvon aside each tweet.
Rosenberg has courted controversy before. Media Matters lists him as a senior fellow, and he specializes in issues involving Israel. He is a vocal opponent of Israel's government and an ardent support of Palestine who once branded Israeli Prime Minister Benjamin Netanyahu a "terrorist."
Harvard Professor Alan Dershowitz has branded Rosenberg an anti-Semite for branding pro-Israel Americans with the name "Israel-firsters." Dershowitz, a lifelong Democrat, has called on the Democratic Party to distance itself from Media Matters. Rosenberg responded to Dershowitz by telling him to "go to Hell" and urging Dershowitz's students to boycott his class.