Md. gov calls up National Guard after roving gangs attack police, torch patrol car and store
DEVELOPING: Maryland's governor called up the National Guard late Monday hours after rioting gangs attacked police, injuring 15, torched cars and went on widespread looting sprees in a downtown section of Baltimore.
Gov. Larry Hogan issued a statement late Monday saying he was declaring a state of emergency and calling up the National Guard. "These acts of violence and destruction of property cannot and will not be tolerated," he said at a late-night press conference.
In addition, he said he was deploying 500 state troopers and had asked for 5,000 officers from neighboring states to deal with the violence.
But little seemed able to quell the violence. A massive fire has broke out Monday night in a building that was under construction and the Baltimore mayor's spokesman said it was related to the riots, according to the Associated Press.
Baltimore's mayor, Stephanie Rawlings-Blake, announced a 10pm-5am curfew would be imposed beginning Tuesday.
She also said emergency officials were constantly thwarted as they tried to restore calm and that firefighters trying to put out a blaze at a CVS store were hindered by someone who sliced holes in a hose connected to a fire hydrant.
Baltimore city schools were closed for Tuesday
City police said they had "reports" of several people inside the Mondawmin Mall looting and destroying property.
A police spokesman said Monday night 15 officers had been injured in the violence and that two remained hospitalized, with the others treated and released. He also said there had been 27 arrests.
The Baltimore Orioles postponed Monday night's home game with the Chicago White Sox, saying the decision followed "consultation with police."
CVS Health, which had one store looted and set afire, announced it was closing "some stores" in Baltimore.
"It's a group of lawless individuals."
The rioting, looting and threats of further violence followed the funeral of Freddie Gray, who died April 18, a week after being injured while in police custody. Gray, 25, was being transported in a police vehicle when he suffered injuries that proved fatal. On Monday, police said an online call was issued for a "purge" at 3 p.m. ET, starting at Mondawmin Mall and ending in the downtown area. The type of threat threat is based on a movie called "The Purge," whose plot involves rampant lawlessness.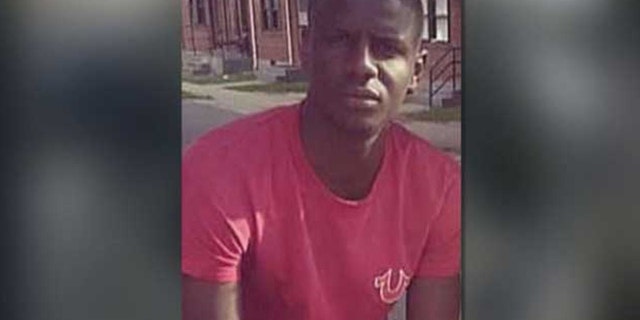 Tweets from the Baltimore Police Department and news footage showed roving gangs followed through on the online threat. One Twitter dispatch said "a group of juveniles in the area of the mall were blocking traffic, and there were reports of rock throwing.
Looters were seen dragging merchandise out of several businesses near the mall, as armored SWAT vehicles were on the scene. The FBI was assisting in the investigation of threats against police, and cops from Prince George's County and Washington DC were sent to Baltimore to assist. Meanwhile, nearby University of Maryland-Baltimore has closed its campus, as have many area businesses. Police advised parents to get their children home to safety.
"We have seven officers who were injured during the course of this," said Baltimore Police Capt. Eric Kowalczyk earlier in the day."They have broken bones, one of them is unresponsive. This is not okay. Our officers went out to that situation to make sure that the people who live in that community were safe and we're going to continue to do what we can to make sure that those people stay safe.
"It's a group of lawless individuals," Kowalczyk said of the rioters. "What we know is that they are a group of criminals with no regard for the people in the community."
A police source told Fox News several gangs, including Black Gorilla Family, Bloods and Crips all had "entered into a partnership to take out law enforcement officers."
Activists from the Nation of Islam claimed responsibility for bringing the gangs together, telling reporters that they brokered a deal between the hated foes.
"I can say with honesty those brothers demonstrated they can be united for a common good," Nation of Islam minister Carlos Muhammad told The Daily Beast. "At the rally, they made the call that they must be united on that day. It should be commended."
The U.S. Justice Department has opened an investigation into Gray's death, and the White House sent a representative to Monday's funeral.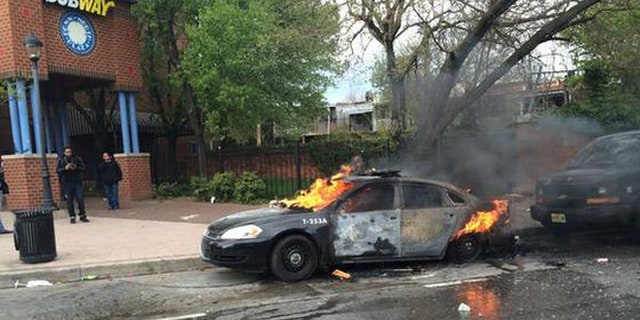 Six Baltimore police officers were suspended after Gray's arrest and injury, but a probe into the circumstances is ongoing. His attorney, Bill Murphy, told mourners at Monday's funeral at New Shiloh Baptist church that the community will continue to pressure officials for answers.
"This is our moment to get at truth. This is our moment to get it right," Murphy said.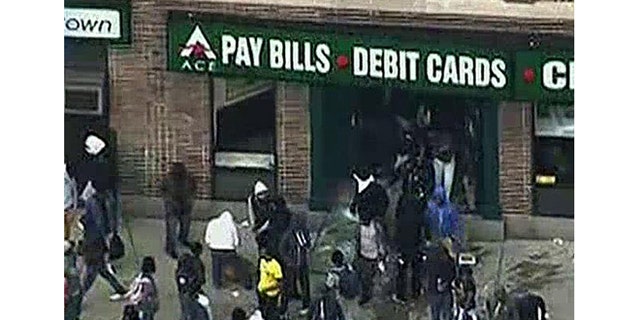 Gray's death has prompted near-daily demonstrations. Gray was arrested after officers chased him through a West Baltimore neighborhood and dragged him into a police van. Murphy has said his spine was nearly severed. Police said Gray was arrested after he made eye contact with officers and ran away. Officers held him down, handcuffed him and loaded him into the van. While inside, he became irate and leg cuffs were put on him, police have said.
Gray asked for medical help several times, beginning before he was placed in the van. After a 30-minute ride that included three stops, paramedics were called.
Authorities have not explained how or when Gray's spine was injured.
Police acknowledged Friday that Gray should have received medical attention on the spot where he was arrested -- before he was put inside a police transport van handcuffed and without a seat belt, a violation of the police department's policy.
On Saturday, as protests continued to turn ugly, Baltimore Mayor Stephanie Rawlings-Blake confirmed that the protesters were being given "space" to "destroy."
"I worked with the police and instructed them to do everything that they could to make sure that the protesters were able to exercise their right to free speech," the mayor said. "It's a very delicate balancing act because while we tried to make sure that they were protected from the cars and the other things that were going on, we also gave those who wished to destroy space to do that as well."