Mattis dismissive of news reports of tension with Trump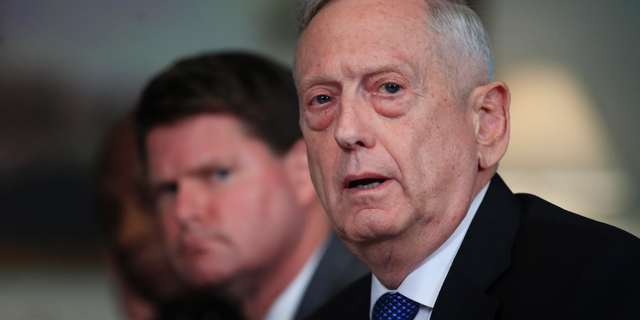 WASHINGTON – Defense Secretary Jim Mattis on Tuesday dismissed recent news reports that tensions between him and President Donald Trump point to his exit soon.
Asked by a reporter whether such reports should be taken seriously, he replied, "No. I wouldn't take it seriously at all. It's like most of those kind of things in this town" that he said are fanned by baseless rumor.
"Somebody cooks up a headline. They then call to a normally chatty class of people, they find a couple of other things to put in, they add the rumor, somebody else on the other coast starts writing the same thing — next thing you know you've got a story," he told a small group of reporters on the steps of the Pentagon as he awaited the arrival of his Philippine counterpart.
Several news organizations have reported that Trump has become weary of Mattis, a retired Marine general who was one of his first Cabinet selections. He is seen by many as a steadying influence on Trump in the face of sometimes impulsive moves on national security issues.
It's well known that Mattis has privately disagreed with Trump on numerous issues, including the president's decision to end U.S. participation in the Iran nuclear deal and move the U.S. embassy in Israel to Jerusalem. But Mattis is widely supported in Congress and the military and prevailed in an administration argument in 2017 over whether to keep U.S. troops in Afghanistan.
The New York Times reported on Saturday that Trump has "soured" on Mattis, and that the president is considering whether he wants someone running the Pentagon who would be more vocally supportive. The newspaper also reported that Mattis is becoming weary of pushing back against various Trump proposals.
In his comments Tuesday, Mattis did not refer to any specific story. He said he is not considering quitting and indicated he is not worried about the stories.
"It'll die down," he said. "How many times have we been through this now, just since I've been here? It'll die down soon and the people who started the rumor will be allowed to write the next rumor, too."
The Times report followed release of a book by Washington Post journalist Bob Woodward about the Trump White House in which the author says Mattis told close associates after a National Security Council meeting this year that the president acted like — and had the understanding of — "a fifth- or sixth-grader."
Mattis quickly disputed the Woodward account, saying in a written statement on Sept. 4, "The contemptuous words about the president attributed to me in Woodward's book were never uttered by me or in my presence."
Asked Tuesday whether he thinks about leaving, Mattis said, "I think about doing my job each day."