Massive California wildfires leave 23,000 displaced
A massive wildfire burned largely unchecked Monday after destroying hundreds of homes and other buildings throughout rural towns north of California's Napa Valley, leaving at least one person dead and sending tens of thousands fleeing down flame-lined streets.
Meanwhile, a second massive blaze, less than 200 miles away, destroyed 135 homes as it spread through Amador and Calaveras counties in the Sierra Nevada. That fire, called the Rough Fire, had destroyed 203 square miles of forest land as of late Sunday and was 30 percent contained, according to The Associated Press.
Both fires have displaced 23,000 people, Mark Ghilarducci, director of the Governor's Office of Emergency Services, said at a news conference Monday. He said one person died in the wildfire about 20 miles north of the famed Napa Valley, and others are unaccounted for, but didn't have further details.
At least eight firefighters lost their homes ta fast-moving, drought-fueled wildfire.
The union that represents 6,500 firefighters launched a fundraising campaign Monday for the eight victims. Mike Lopez, president of Cal Fire Local 2881, says two or three other firefighters may have lost their homes as well.
None of the firefighters or their families was hurt. Lopez says several of the firefighters were battling blazes in Northern California when they heard of the flames reaching their homes.
Separately, four firefighters are recovering from second-degree burns they suffered Saturday battling a wildfire in Lake County, about 90 miles north of San Francisco.
The so-called Valley Fire broke out Saturday and has already burned 78 square miles in Lake County, north of San Francisco, after rapidly chewing through brush and trees parched from several years of drought.
The fire exploded in size within hours, destroying 400 homes, two apartment complexes and 10 businesses, Cal Fire spokeswoman Lynn Valentine said. By Monday morning, crews had gained 5 percent containment of the 95-square-mile blaze.
Most of the destruction occurred in the communities of Middletown and Hidden Valley Lake, as well as homes along a shuttered highway.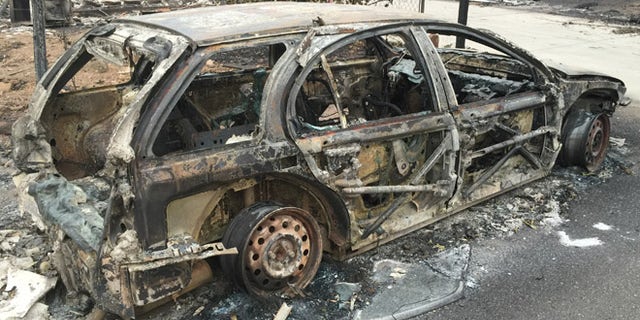 California Gov. Jerry Brown declared a state of emergency in Lake and Napa counties due to the wildfires, state officials said. He also called up the California National Guard and requested funding from the Federal Emergency Management Agency (FEMA). It was not immediately clear whether Brown asked President Obama for a federal disaster declaration, which would give the state access to more resources.
Residents fled from Middletown, a town of more than 1,000, dodging smoldering telephone poles, downed power lines and fallen trees as they drove through billowing smoke. Several hundred people spent Sunday night at the Napa County Fairgrounds and awoke to a breakfast of eggs, bacon, and doughnuts.
Evacuees milled around eating, picking up donated clothing and walking their dogs. Nancy O'Byrne, 57, was evacuated from her home in Middletown, but it's still standing.
"I am very, very, very lucky. I have my house," she said, her dog Nellie at her side.
Still, she was worried.
"This place is getting steadily fuller," she said surveying the fairgrounds, where tents were pitched and RVs were parked everywhere.
Michael Alan Patrick, 53, had been at the fairgrounds since Saturday and lost his house in the blaze. When it broke out, he had been sitting in a park with his friends.
"It was like looking through a tunnel. You could see the flames coming," he said. "There was this big old pine tree, it lit up and it went whoosh and it was gone."
Wind gusts that reached up to 30 miles per hour sent embers raining down on homes and made it hard for firefighters to stop the Lake County blaze from advancing, California Department of Forest Protection spokesman Daniel Berlant said.
Four firefighters who are members of a helicopter crew suffered second-degree burns during the initial attack on the fire Saturday afternoon. They remained hospitalized in stable condition Sunday, Berlant said.
People were ordered Sunday to evacuate a stretch along Highway 281, including Clear Lake Riviera, a town with about 3,000 residents, Cal Fire said.
County officials also warned residents that people are scamming survivors through social media by asking evacuees for their addresses. The scammers say they are part of a news crew covering the fire and will check on the evacuee's home, county officials said.
George Escalona told The Associated Press that in some areas "there is nothing but burned houses, burned cars," adding that all he had left were the clothes he was wearing.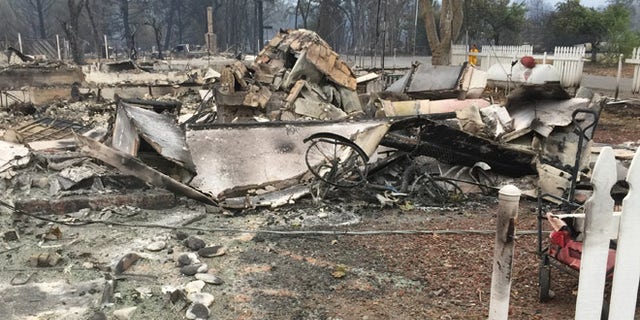 Ghilarducci said this summer's fires are the most volatile he has seen in 30 years of emergency response work. The main cause behind the fast-spreading fires is dry conditions from the four-year drought, he said.
"The bushes, the trees have absolutely no moisture in them, and the humidities are so low that we are seeing these 'fire starts' just erupt into conflagrations," Ghilarducci said, according to the Sacramento Bee.
Lake County saw devastation in just the last two months. In late July, a wildfire east of Clear Lake destroyed 43 homes as it spread across 109 square miles. As firefighters drew close to surrounding that blaze, another fire erupted several miles from the community of Lower Lake on Aug. 9 and more than doubled in size overnight.
Residents in the area had to evacuate from their homes two times in as many weeks.
East of Fresno, firefighters have maintained a precautionary line around Grant Grove, an ancient grove of Giant Sequoia trees, and set prescribed burns to keep the flames from overrunning it.
Some fire came through the area but it hasn't done much harm, fire spokesman Frank Mosbacher told the Fresno Bee.
The grove is named for the towering General Grant tree that stands 268 feet tall. There are dozens of Sequoia groves in the Sierra Nevada, and some trees are 3,000 years old.
The Associated Press contributed to this report.