Massachusetts State Police in search of 'forever homes for 2 retired dogs'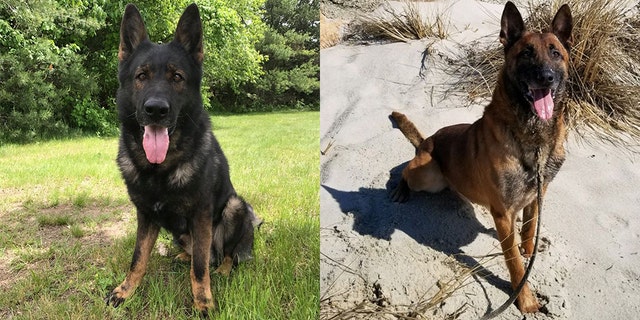 After a career in law enforcement, two police dogs in Massachusetts are looking for their "forever homes" as they're set to retire.
In a note on Facebook, the Massachusetts State Police put out a call for anyone interested in providing a "safe" and "loving" environment for two dogs – Klauss and Alex – who are set to step down from the force.
The post explained that although police dogs typically go on to live with their handlers, some dogs are made "available for adoption for various reasons after their honorable and selfless services to the MSP and the citizens we protect."
Klauss, who police describe as a five-and-a-half-year-old Malinois mix dog, will be put up for adoption because his handler received a promotion and is no longer part of the K-9 team.
"Due to Klauss' age, he is not suitable for re-issue to another Trooper," police said.
Eight-year-old German Shepherd Alex, on the other hand, "has reached a retirement age and his handler is unable to keep him because he has a new department dog and another police dog at his home," police said.
The department urged anyone interested to get in touch with their K-9 Unit Commander but they added that the adoption process would be thorough and people "will be rigorously vetted to ensure that they are prepared, willing, and able to care for the dogs appropriately and lovingly in a safe environment."