Massachusetts police looking for man who allegedly urinated on American flags at veterans cemetery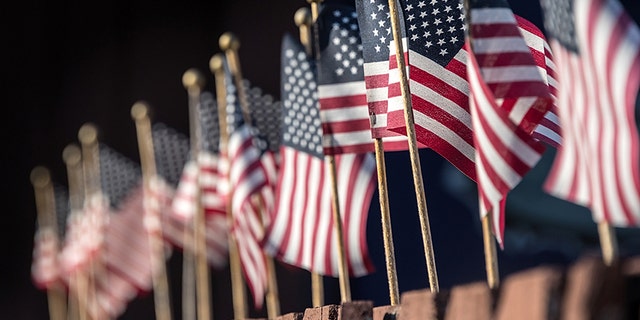 A man was allegedly spotted uprooting mini American flags in the Somerville Veterans Cemetery and then urinating on them Monday, police in Massachusetts said.
George Gatteny, who said he first saw the man pull up the flags from the WWII memorial inside the cemetery, later detailed the incident in a now viral Facebook post. The man, who has not yet been identified, was accompanied by a woman, whose identity is also unclear at this time.
"I witnessed something today that outraged me!" Gatteny began the post, which had more than 30,000 reactions and shares as of Wednesday afternoon.
PREGNANT MOM OF 3 KILLED IN CRASH WITH PROFESSIONAL BOXER SUSPECTED OF DRUNK DRIVING
Gatteny wrote he witnessed the incident as he passed the cemetery while driving down Broadway. When he saw the man allegedly urinate on the flags, he got out of his vehicle and approached the couple.
"I quickly pulled over, got out of my car and headed over to them. The girl was standing by the gate (she must have been the lookout). I started yelling at them to stop, asking him as I approached 'what the hell he was doing'. He stopped urinating, pulled up his pants and started walking out of the memorial. Both of them walked up Broadway laughing," he wrote.
Then, after he "walked behind them for awhile telling everyone I pass what they did," Gatteny wrote he returned to the memorial to "see what damage was done."
The flags appear to be drenched in urine in a photo Gatteny shared.
Outraged, he felt he "needed to do more."
"I got back in my car and drove up Broadway (toward Tele Sq) to see if I could find them. I wanted photos of them," he wrote. Gatteny then located the couple and took a few photos of them.
Gatteny said he later went to the Somerville Police Department, giving authorities there his statement and the photos.
FAMILY OF DALLAS COP WHO FATALLY SHOT NEIGHBOR SAID THEY ARE NOT RACIST AFTER PHOTOS SURFACE ON SOCIAL MEDIA
In a statement to The Boston Globe, Somerville Police Deputy Chief James Stanford said the police department is "aware of the Facebook posting and have opened an investigation into the matter."
"This is an active and ongoing investigation and no further information is available at this time," he added.
"They weren't concerned about the consequences. They are going to be concerned about it now because a lot of people are upset by that," Gatteny told Boston 25-News.
Stanford was not immediately available for comment when contacted by Fox News on Wednesday.