Massachusetts governor adds his signature to 70,000 others on Boston Marathon prayer canvas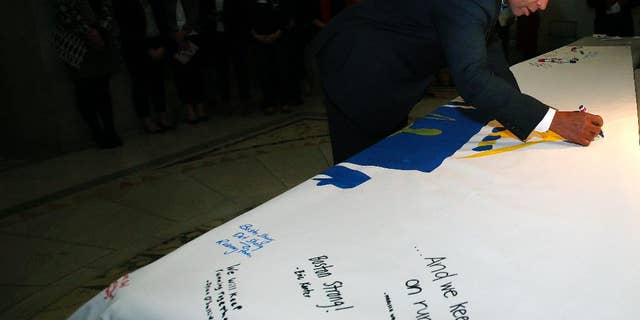 BOSTON – Massachusetts Gov. Deval (deh-VAL') Patrick has signed a huge prayer canvas designed to serve as a message of support on the anniversary of the deadly Boston Marathon bombing.
Supporters say the America 4 Boston Prayer Canvas has been signed by more than 70,000 people from all 50 U.S. states and 30 nations.
The 19,000-square-foot canvas was started by seven women in Florida a week after last year's bombing. They started with one small canvas asking people to sign their names and write messages and added to it.
The canvas will be displayed at several events around the anniversary of the April 15 attack. This April 16-17 the canvas will be laid out on the Boston Common. Members of the public can sign it.
Patrick signed a piece of it during a Statehouse ceremony Friday.